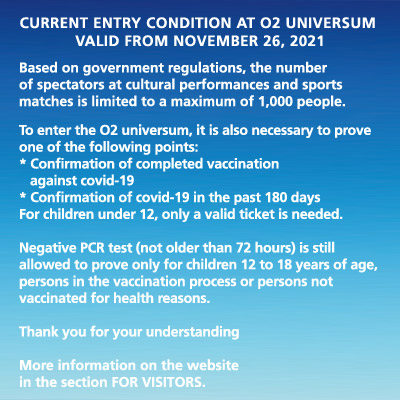 Place
O2 universum, Praha
Box offices

Box office - entry no. 10, O2 arena
Working days
13:00 - 18:00
Event day
10:00 - to 1 hour after the start of the event

Information
Bestsport, a.s. records of visitors and other persons in accordance with Privacy Policy.
Conditions for entry of visitors to the O2 universum (according to government measures valid from 26 November 2021)
On the basis of government regulations, with effect from 26 November 2021, the number of spectators at cultural performances, sports matches and educational events will be limited to a maximum of 1,000 people.
Please follow the information about upcoming events on our website.
To enter the O2 universum, it is also necessary to prove one of the following points:
Confirmation of completed vaccination against covid-19 *
Confirmation of covid-19 in the past 180 days
For children under 12, only a valid ticket is needed.
Neither the negative antigen test nor the self-test can be proven at events.
Only children from 12 to 18 years of age, persons in the vaccination process (after the 1st dose; or after the 2nd dose, but not more than 14 days have elapsed) or persons can test not vaccinated for medical reasons (on the basis of a medical certificate).
Due to the necessary infectivity checks, we ask you to arrive in front of the O2 universum on the day of the concert. To enter the hall and move inside, it is necessary to have respiratory protection in accordance with current regulations (eg respirator, nano drape). We also ask you to adhere to the intervals while waiting for entry.
Thank you and we look forward to seeing you.