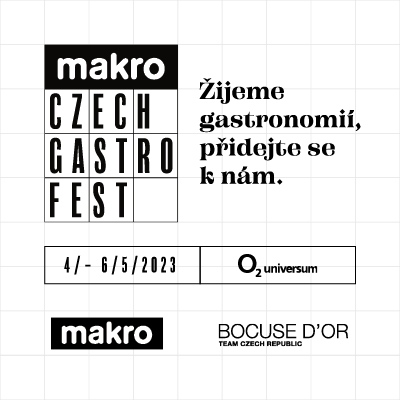 4.5.2023 10:00
5.5.2023 10:00
6.5.2023 10:00
MAKRO CZECH GASTRO FEST
Date
4.5.2023 10:00
5.5.2023 10:00
6.5.2023 10:00
Entry from
9:00
Place
O2 universum, Praha
Organizer
MAKRO Cash & Carry ČR s.r.o. Organizer
Download
-
Price

CZK 390 – 3 990

Ticket price for students: 250 CZK
Children's tickets are only available on Saturdays.

Tickets for ZTP/P and accompanying persons are not offered.

Sale / reservation
Ticket sales have ended.
Box offices

Box office – entry no. 1, O2 arena
Mon - Fri
9:00 - 12:00
12:30 - 17:00
Event day
10:00 - 1 hour after the start of the event

Information
Bestsport, a.s. records of visitors and other persons in accordance with Privacy Policy.
Organizer – MAKRO Cash & Carry ČR s.r.o.
1. Vstupenka platí jen pro uvedený den, hodinu, akci, místo konání a sedadlo, je platná pouze s kontrolním ústřižkem a opravňuje k jednomu vstupu. Po opuštění místa konání akce pozbývá platnosti. Dodatečnými úpravami se stává vstupenka neplatnou. V případě uplynutí platnosti vstupenky, jejího poškození, zničení, ztráty nebo krádeže nelze vstupenku vyměnit ani nahradit její hodnotu ani poskytnout jinou kompenzaci. Další převod, prodej nebo zbavení se vstupenky bez písemného souhlasu pořadatele nebo pokus o další prodej za cenu vyšší, než je na vstupence vytištěna, způsobuje její neplatnost. Držiteli takové vstupenky bude odepřen vstup na místo konání akce nebo bude vyveden a zakládá to důvod pro zabavení vstupenky bez náhrady její nominální ceny nebo jiné kompenzace.
2. Vstupenka je cenina, její padělání a pozměňování je zakázáno. Pořadatel odepře vstup na akci všem držitelům takových vstupenek.
3. Zaplacené vstupné se nevrací, vstupenka se nevyměňuje. V případě zrušení akce zodpovídá za vrácení vstupného pořadatel. V případě zrušení akce uplatní držitel vstupenky nárok na vrácení vstupného dle pokynů pořadatele. Servisní poplatky se nevracejí. Náhrada zvláštních nákladů (např. hotel, jízdní výlohy) se neposkytuje. Změna programu vyhrazena. Datum a čas akce mohou být změněny bez upozornění.
4. Je zakázáno fotografování a pořizování obrazových a zvukových záznamů v průběhu akce včetně přestávek.
5. Na akci jsou poskytovány slevy. Pořadatel poskytuje slevy na vstupném držitelům průkazu ZTP/P – vozíčkářům a jejich průvodcům.
6. Při plnění povinností vyplývajících z prodeje vstupenek budou Ticketmaster Česká republika a RSnet CZ s.r.o. postupovat ve shodě s platnými Obchodními podmínkami pro poskytování služby prodej vstupenek na sportovní a kulturní akce prostřednictvím prodejních sítí Ticketmaster a Ticketportal. Aktuální znění obchodních podmínek je k dispozici na www.ticketmaster.cz a www.ticketportal.cz.
We invite you to an event that will write a new chapter in Czech gastronomy. Thousands of professionals will soon meet under one roof, in the generous space of Prague's O2 universe, to connect, inspire and move Czech gastronomy forward.
Lovers of food and good drink will also enjoy themselves, as they will be able to taste a menu from the best of Czech gastronomy.
More information at www.makroczechgastrofest.cz
THE OFFICIAL SELLER OF TICKETS FOR EVENTS AT THE O2 UNIVERSUM IS TICKETMASTER. WE DO NOT WARRANT THE VALIDITY OF TICKETS PURCHASED FROM OTHER SELLERS.