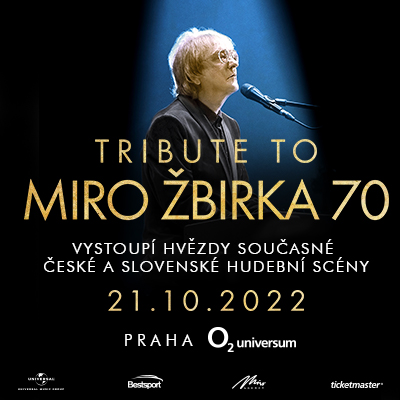 21.10.2022 19:30
TRIBUTE TO MIRO ŽBIRKA 70
Date
21.10.2022 19:30
Entry from
18:30 (this show is about to end 21:30)
Place
O2 universum, Praha
Organizer
Bestsport, a.s. Organizer
Download
Orientation Plan TRIBUTE TO MIRO ŽBIRKA 70 Ticketmaster (223.09 Kb)

Price

CZK 890–2 190
---
wheelchairer + guide
CZK 990 + CZK 1

Order wheelchair tickets from Ticketmaster (ticket@ticketmaster.cz).

Sale / reservation
Ticket sales have ended.
Box offices

Box office – entry no. 1, O2 arena
Mon - Fri
9:00 - 12:00
12:30 - 17:00
Event day
10:00 - 1 hour after the start of the event

Information
Bestsport, a.s. records of visitors and other persons in accordance with Privacy Policy.
Organizer – Bestsport, a.s.
Vstupenka platí jen pro uvedený den, hodinu, akci, místo konání a sedadlo, je platná pouze s kontrolním ústřižkem a opravňuje k jednomu vstupu. Po opuštění místa konání akce pozbývá platnosti. Dodatečnými úpravami se stává vstupenka neplatnou. V případě uplynutí platnosti vstupenky, jejího poškození, zničení, ztráty nebo krádeže nelze vstupenku vyměnit ani nahradit její hodnotu ani poskytnout jinou kompenzaci. Další převod, prodej nebo zbavení se vstupenky bez písemného souhlasu pořadatele nebo pokus o další prodej za cenu vyšší, než je na vstupence vytištěna, způsobuje její neplatnost. Držiteli takové vstupenky bude odepřen vstup na místo konání akce nebo bude vyveden a zakládá to důvod pro zabavení vstupenky bez náhrady její nominální ceny nebo jiné kompenzace.
Vstupenka je cenina, její padělání a pozměňování je zakázáno. Pořadatel odepře vstup na akci všem držitelům takových vstupenek.
Zaplacené vstupné se nevrací, vstupenka se nevyměňuje. V případě zrušení akce zodpovídá za vrácení vstupného pořadatel. V případě zrušení akce uplatní držitel vstupenky nárok na vrácení vstupného dle pokynů pořadatele. Náhrada zvláštních nákladů (např. hotel, jízdní výlohy) se neposkytuje. Změna programu vyhrazena. Datum a čas akce mohou být změněny bez upozornění.
Je zakázáno fotografování a pořizování obrazových a zvukových záznamů v průběhu akce včetně přestávek, vyjma malých kompaktních fotoaparátů. Dále je zakázáno vnášet do objektu kamery, profesionální fotoaparáty, tablety a zároveň je zakázáno používání laserových ukazovátek.
Pořadatel poskytuje slevy na vstupném vozíčkářům (držitelům průkazu ZTP/P) a jejich průvodcům.
Při plnění povinností vyplývajících z prodeje vstupenek bude Ticketmaster Česká republika, a.s. postupovat ve shodě s platnými Obchodními podmínkami pro poskytování služby prodej vstupenek na sportovní a kulturní akce prostřednictvím prodejní sítě Ticketmaster. Aktuální znění obchodních podmínek je k dispozici na stránkách www.ticketmaster.cz.
Last year, singer and composer Miro Žbirka left us, but his music and legacy remain with us. In 2022, his songs will resonate even more intensely, as he would live to an incredible 70's that year.
In the autumn, a great concert tribute to his songs is planned in Prague, Bratislava and London. Legendary songs and great hits will be played and sung by the stars of the contemporary Czech and Slovak music scene. All artists who selflessly accepted the invitation to TRIBUTE TO MIRO ŽBIRKA 70 concerts pay tribute to the work of an exceptional author and singer. At the same time, they certainly remember their experiences with the Czechoslovak music legend. The names of the performers will be published gradually, always with the designation #mekynaveky, which will be the unifying motive for all activities associated with the tribute to Miro Žbirek.
A concert will take place at the O2 universum in Prague on October 21, 2022, the day of his late seventieth birthday.
TRIBUTE TO MIRO ŽBIRKA 70 concerts will take place
9/23/2022 in London (229 Venue)
17.10.2022 in Bratislava (NTC Arena)
21.10.2022 in Prague (O2 universum)
Each of these concerts will be an exceptional celebration of Mira Žbirka's music with a great music and visual show with many star guests. Peter Nagy, Lenny, David Koller, Jana Kirschner, Štefan Margita, Marta Jandová, Slza, Jiří Macháček, Katarína Knechtová, Michal Malátný, Rob Cass, Peter Bič Project, Marián Čekovský and other as yet unreleased artists will perform.
Tickets for the concert at Prague's O2 universum can be purchased in the Ticketmaster network from 8 February 2022 at 10:00.
New songs, new album
A new single and video will also appear as soon as possible. It will be the first song from the last album, which will close Mira Žbirka's more than 50-year-old author's journey. At the time of the lockdown, when all concerts were canceled, Meky gradually wrote new songs and in recent months he managed to sing them. He commissioned his son David, who is working intensively on it at the KONK studio in London, to complete and produce the album Meka.
The last, third series of the Meky Žbirka TV Lair has also been released on DVD, and other surprises are being prepared, which fans will find on the official website and social networks of Miro Žbirka.
#MEKYNAVEKY
https://www.facebook.com/MiroZbirka/
https://www.instagram.com/mirozbirka/
THE OFFICIAL SELLER OF TICKETS FOR EVENTS AT THE O2 UNIVERSUM IS TICKETMASTER. WE DO NOT WARRANT THE VALIDITY OF TICKETS PURCHASED FROM OTHER SELLERS.