After several postponed dates, the creators will premiere their captivating iMUCHA SHOW on May 26, 2022
may 6, 2022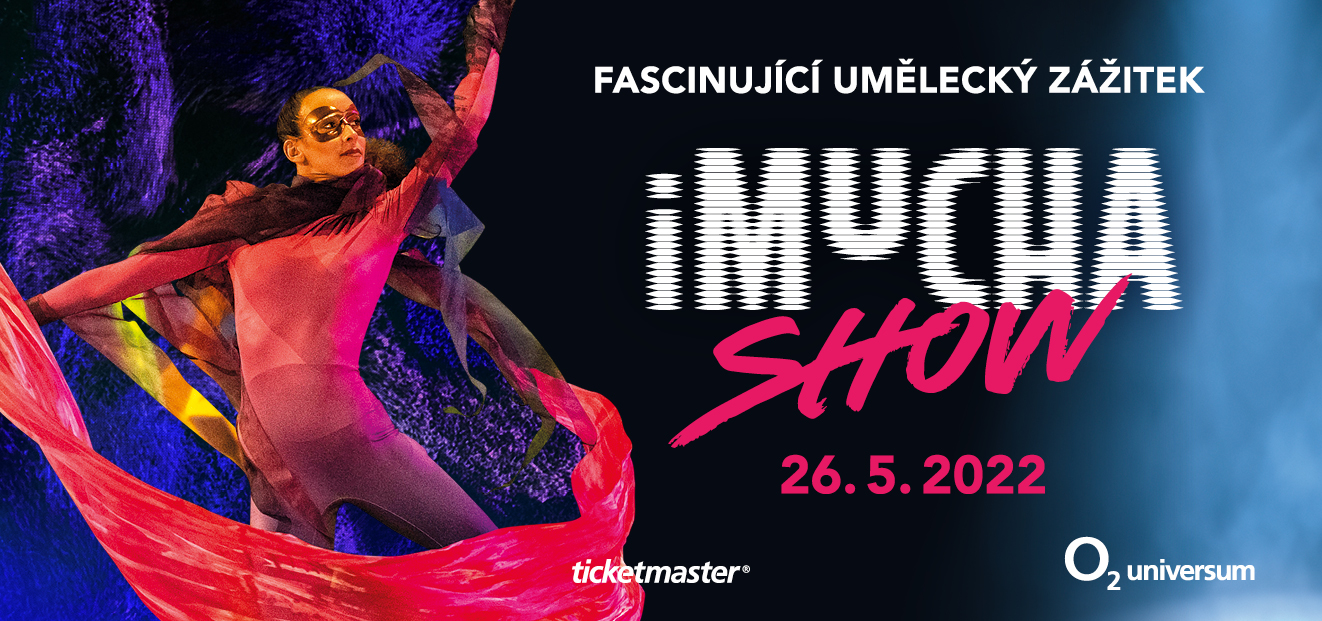 Don't miss the unique opportunity to experience a unique international multimedia show about the battle of creativity and destruction, which takes place against the background of the life and work of the world-famous painter, graphic artist, designer and visionary of the Art Nouveau style Alfons Mucha.
A young comic book artist from New York is going through an extraordinary story. He falls in love with a French girl who seems to have fallen out of Mucha's poster. At the same time, he gains the superpower to enter images and move in their world. His mysterious and somewhat frightening journey begins with a beautiful girl and a man from the past who is looking for a helper in the fight against the black cloud of vanity. That man is Alfons Mucha.
The beauties of his posters, jewels or the imposing giant canvases of the Slavic Epic will first appear to the world in sophisticated animations. Comics, the most technologically advanced projections, original music, dance, acrobatics or breathtaking stage design will all tell the story of the age-old battle of forces of creation and destruction.
We will present the show in Czech by actor Jiří Dvořák. For those interested, headphones with the original version of Pierce Brosnan will be available for rent.
The creators of the iMUCHA show did not let themselves be discouraged and after the postponed several times, they will premiere the captivating iMUCHA SHOW on May 26, 2022 at the O2 Universum. Tickets with the original date of the event remain valid.
The iMUCHA project has the world's largest collection of Alfons Mucha posters and a digitized version of much of the work, including paintings, books, large canvases, jewelry and utility items. With the revolutionary EbSynth programs from Secret Weapons and FaceStyle from Adobe, he breathes life into these Art Nouveau works.
The concert master of the Czech Philharmonic Jiří Vodička and other top musicians will take care of the perfect musical interpretation. Fascinating dance and acrobatic figures are performed by artists who perform around the world, such as soloists of the ballet of the National Theater of the Czech Republic, at the MTV Awards in Los Angeles, with La Putyka Circus or Losers Cirque Company and Cirkus Cirkör. They boast awards such as World Hip Hop Champion, European Capoira Champion, Thalia Awards, Grand Prix from the International Choreography Competition in Bytom, Poland and have collaborated with world stars such as Kanye West, Joe Alegado, Justin Jesso, Nico Santos or Bobby McFerin.
The show is one of the three parts of the iMUCHA project, which in addition to it also offers a unique exhibition of the most extensive collection of Alfons Mucha's work and a multimedia exhibition. Three producers are behind the project – Richard Fuxa, Michal Dvořák and Igor Rattaj.
THE OFFICIAL SELLER OF TICKETS FOR EVENTS AT THE O2 UNIVERSUM IS TICKETMASTER. WE DO NOT WARRANT THE VALIDITY OF TICKETS PURCHASED FROM OTHER SELLERS.