COUNTING CROWS: BUTTER MIRACLE TOUR 2022
october 5, 2021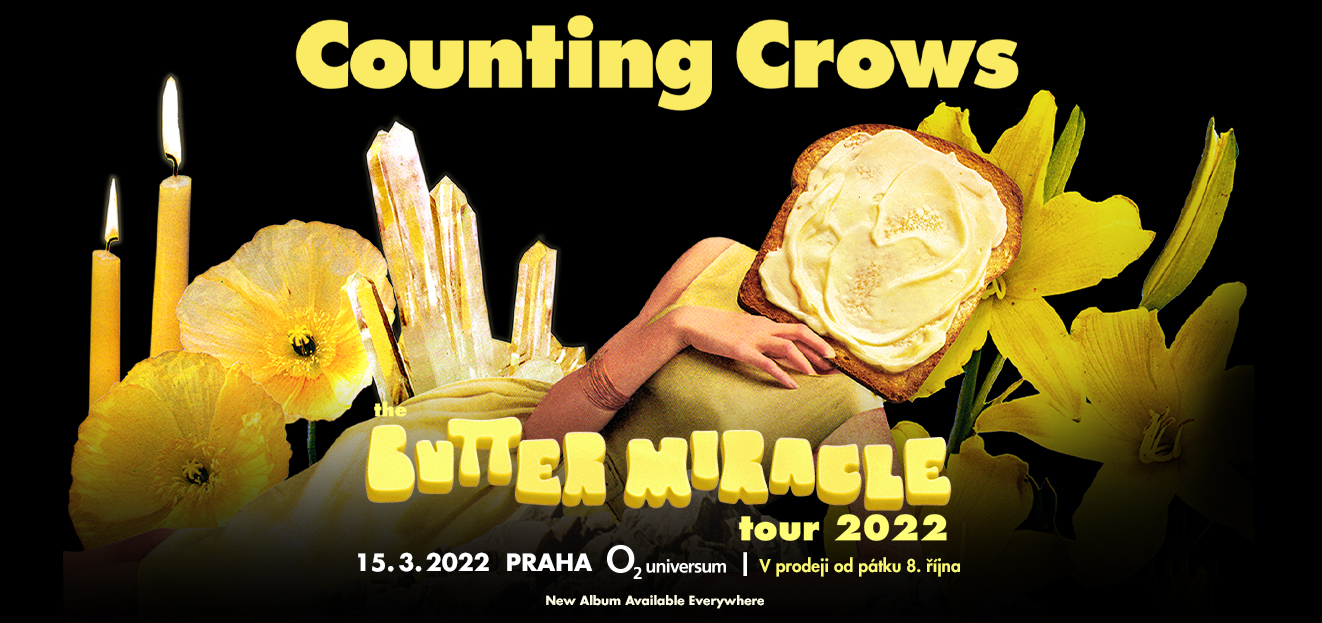 One of the most important bands in alternative rock is returning to Europe with their Butter Miracle Tour and Prague will not be missing out.
Today band announced their long-awaited return to Europe in 2022 with "Counting Crows: Butter Miracle Tour 2022." The 26-show run is set to kick off in Helsinki on February 28, making stops in major cities before ending in Israel on April 20. Counting Crows: Butter Miracle Tour 2022 tour announcement follows the release of the band's latest record BUTTER MIRACLE, SUITE ONE, a four-track, nineteen-minute suite available now worldwide.
Adam Duritz said, "It's great to be back out on the road in the States after all this time off but we're over the moon about touring Europe in the Spring. We look forward to seeing everyone at the shows in 2022!"
Returning to Europe for the first time since 2018, lead singer Adam Duritz and Counting Crows will be performing in Israel for the first time and will also be returning to the stage in several cities including London, Dublin, Milan, and Barcelona.
Counting Crows have enchanted listeners worldwide for more than two decades with their intensely soulful and intricate take on timeless rock & roll. Exploding onto the music scene in 1993 with their multi-platinum breakout album, August and Everything After, the band has gone on to release seven studio albums, selling more than 20 million records worldwide, and is revered as one of the world's most pre-eminent live touring rock bands. In 2004, Counting Crows recorded the chart-topping "Accidently in Love" for the animated motion picture Shrek 2. The instant success of the track earned them an Academy Award nomination for "Best Original Song" at the 2005 Academy Awards, a Golden Globe nomination for "Best Original Song," and a GRAMMY Award nomination for "Best Song Written for a Motion Picture, Television or Other Visual Media." Over the last 30 years, the masterful songwriting from frontman Adam Duritz put the band at No.8 on Billboard Magazine's 2021 "Greatest Of All Time: Adult Alternative 25th Anniversary Chart."
THE OFFICIAL SELLER OF TICKETS FOR EVENTS AT THE O2 UNIVERSUM IS TICKETMASTER. WE DO NOT WARRANT THE VALIDITY OF TICKETS PURCHASED FROM OTHER SELLERS.