Dozens of his colleagues pay tribute to Karel Gott. The organizers vacated additional seats for June concerts at the O2 arena
april 14, 2022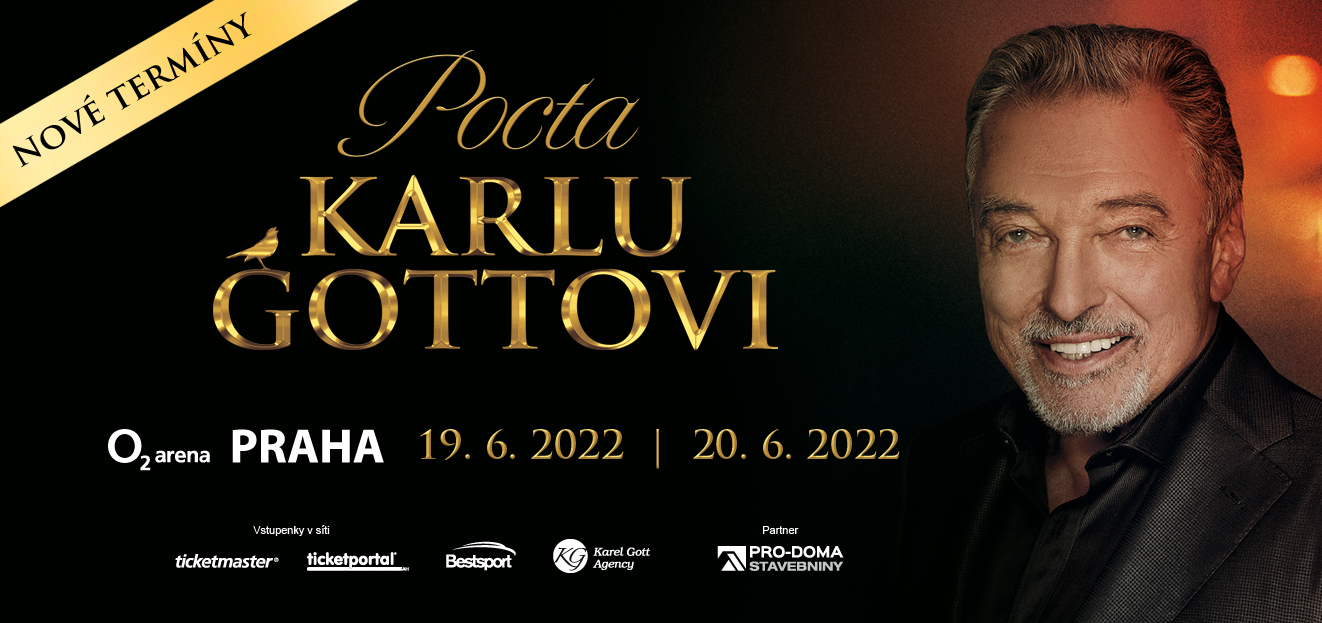 A real festival of Czech music is going to take place in Prague's O2 arena in mid-June. On June 19 and 20, 2022, more than forty singers will gather on one stage, even for two consecutive days. The most resounding names of the domestic popular scene pay tribute to Karel Gott. In addition, the organizers come with good news for the fans: for both sold-out concerts, we managed to add other seats, which are now in advance.
Preparations for the long-awaited action, which has been postponed several times due to anti-civic measures, are just culminating. It is already certain that dozens of famous songs by Karel Gott will be heard both evenings, including the hits Lady Carneval, Go for Happiness, The Safe, What the Judges Wished Us or The Hearts Won't Go Out. "I am glad that this husband's wish was also fulfilled. After the successful publication of his autobiography My Journey for Happiness and the premiere of the feature documentary Karel, this concert is another of the projects he sketched during his lifetime, and we try to fulfill his idea as best we can," says Ivana Gottová.
Lucie Bílá, the current holder of the Český slavík Marek Ztracený and also Monika Absolonová, Monika Bagárová, Václav Noid Bárta, Bára Basiková, Petr Bende, Ondřej Brzobohatý, Eva Burešová, Ilona Csáková, Dasha, Michal David, Kateřina Marie Fialová, Charlotte Ella Gottová, Gabriela Gunčíková, Petra Janů, Petr Kolář, Markéta Konvičková, Jan Kopečný, Richard Krajčo, Olga Lounová, Leona Machálková, Leoš Mareš, Štefan Margita, Tereza Mašková, Bohuš Matuš, Adam Mišík, Jitka Molavcová, Dara Rolins, Ondřej Ruml, Felix Slováček, Jan Smigmator, Jiří Suchý, Eva Urbanová, Josef Vágner, Hana Zagorová, Jitka Zelenková, Josef Zíma, 4 tenors and 4Tet. They will be accompanied by bandleader Pavel Větrovec and his Band and Epoque Orchestra. Actress Jiřina Bohdalová will be the special guest and the moderator Libor Bouček will perform in the evening.
The concerts will include the handing over of checks to support research in the field of lymphoma and leukemia carried out at the 1st Internal Clinic of the 1st Faculty of Medicine, Charles University and the General University Hospital in Prague. The check will be accepted by a leading Czech oncologist, prof. MUDr. Marek Trneny.
The Tribute to Karel Gott concerts will take place in the largest Czech hall on 19 and 20 June from 7 pm. Tickets are on sale in the Ticketmaster and Ticketportal networks. The organizers of the concerts are Karel Gott Agency, s.r.o. and Bestsport, a.s.
THE OFFICIAL SELLERS OF TICKETS FOR EVENTS AT THE O2 ARENA ARE TICKETMASTER AND TICKETPORTAL. WE DO NOT WARRANT THE VALIDITY OF TICKETS PURCHASED FROM OTHER SELLERS.