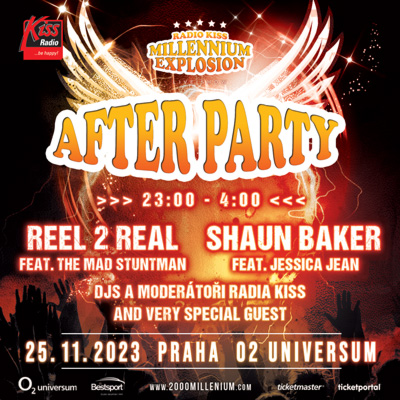 25.11.2023 23:00
AFTER PARTY Radio Kiss MILLENNIUM EXPLOSION
Date
25.11.2023 23:00
Place
O2 universum, Praha
Organizer
Bestsport, a.s.
Price

CZK 790

Sale / reservation
Ticket sales have ended.
Box offices

Box office – entry no. 1, O2 arena
Mon - Fri
9:00 - 12:00
12:30 - 17:00
Event day
10:00 - 1 hour after the start of the event

Information
Bestsport, a.s. records of visitors and other persons in accordance with Privacy Policy.
Is four hours of a live show of exclusive millennium stars not enough at the O2 arena on November 25, 2023? Do you want to keep having fun, dancing, singing to music from the turn of the century? So the Radio Kiss MILLENNIUM EXPLOSION after party is exactly for you!
Immediately after the end of the biggest 2000s event in the O2 arena, the biggest 2000s party you've ever experienced will start. The side hall of the O2 universum will be resounding with popular DJs and presenters of Kiss radio and of course that's not all! We have another show of performers from this period ready for you! Maybe the names from the evening's program at the O2 arena like Reel 2 Reel feat. The Mad Stuntman or Shaun Baker feat. Jessica Jean will appear at the party.
The party is for all fans who don't want to end at eleven o'clock in the wild party that Radio Kiss MILLENNIUM EXPLOSION will surely be. The names Cascada, Lou Bega, Groove Coverage, Las Ketchup, Reel 2 Real and many others promise an exclusive experience. Ticket sales for guests and the public start on October 30. at 11:00 a.m.