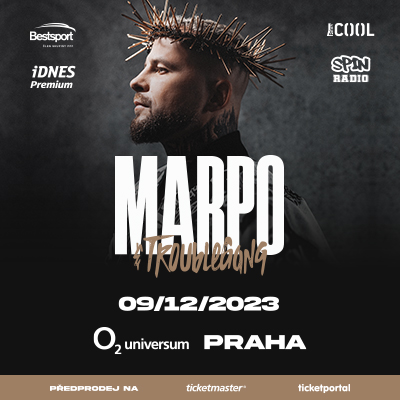 9.12.2023 21:30
MARPO & TROUBLEGANG
Organizer – Bestsport, a.s.
Vstupenka platí jen pro uvedený den, hodinu, akci, místo konání a sedadlo, je platná pouze s kontrolním ústřižkem a opravňuje k jednomu vstupu. Po opuštění místa konání akce pozbývá platnosti. Dodatečnými úpravami se stává vstupenka neplatnou. V případě uplynutí platnosti vstupenky, jejího poškození, zničení, ztráty nebo krádeže nelze vstupenku vyměnit ani nahradit její hodnotu ani poskytnout jinou kompenzaci. Další převod, prodej nebo zbavení se vstupenky bez písemného souhlasu pořadatele nebo pokus o další prodej za cenu vyšší, než je na vstupence vytištěna, způsobuje její neplatnost. Držiteli takové vstupenky bude odepřen vstup na místo konání akce nebo bude vyveden a zakládá to důvod pro zabavení vstupenky bez náhrady její nominální ceny nebo jiné kompenzace.
Vstupenka je cenina, její padělání a pozměňování je zakázáno. Pořadatel odepře vstup na akci všem držitelům takových vstupenek.
Zaplacené vstupné se nevrací, vstupenka se nevyměňuje. V případě zrušení akce zodpovídá za vrácení vstupného pořadatel. V případě zrušení akce uplatní držitel vstupenky nárok na vrácení vstupného dle pokynů pořadatele. Servisní poplatky se nevracejí. Náhrada zvláštních nákladů (např. hotel, jízdní výlohy) se neposkytuje. Změna programu vyhrazena. Datum a čas akce mohou být změněny bez upozornění.
Je zakázáno fotografování a pořizování obrazových a zvukových záznamů v průběhu akce včetně přestávek, vyjma malých kompaktních fotoaparátů. Dále je zakázáno vnášet do objektu kamery, profesionální fotoaparáty, tablety a zároveň je zakázáno používání laserových ukazovátek.
Pořadatel poskytuje slevy na vstupném vozíčkářům (držitelům průkazu ZTP/P) a jejich průvodcům.
Při plnění povinností vyplývajících z prodeje vstupenek bude IRSnet CZ s.r.o. postupovat ve shodě s platnými Obchodními podmínkami pro poskytování služby prodej vstupenek na sportovní a kulturní akce prostřednictvím prodejní sítě Ticketportal. Aktuální znění obchodních podmínek je k dispozici na www.ticketmaster.cz a www.ticketportal.cz.
Singer, rapper, drummer and fighter Marpo will come back to indoor venues after 5 long years. On Saturday, December 9, 2023 he´ll hit the stage of the O2 universum Prague with his band TroubleGang, to show their spectacular music & visual show.
Fans may look forward to hear the greatest hits and watch unique stage design, created under the baton of renowned stage designer Martin Hruška. Marpo, 38, has released several successful albums, including the lastest, critically acclaimed Backwoods Bred. In October 2022, Marpo pleased his fans with the emotional single ZASE DALŠÍ PONDĚLÍ and this year he also reached out to another spectrum of the audience with Sebastian Navrátil collab on the single NEZAPOMÍNÁM.
Last November, Marpo did show up at the O2 universum stage & surprised the audience by singing a duet with his real life partner, singer Lenny, at her concert. Now Marpo is ready to come back with his own show!