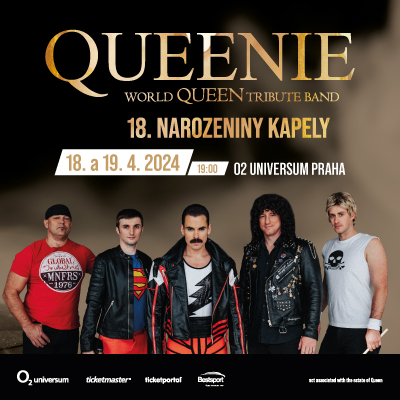 18.4.2024 19:00
19.4.2024 19:00
QUEENIE
The Queenie band, devoted to the repertoire of Freddie Mercury and Queen, will celebrate its 18th anniversary with two special concerts to be held on April 18th and 19th, 2024, at the O2 universum Prague. The precise rendition of the world rock legend's songs in their original arrangements and tones is the reason for the popularity of this formation, which is already well-known to the Czech audience. After five concerts at the O2 arena, the band has decided to celebrate its anniversary in the cozier spaces of the multifunctional O2 universum hall, located right next to the O2 arena.
"We want to be closer to the audience, we want to see their faces more. This concert will celebrate our eighteen-year career, and we would be pleased if all those who started with us eighteen years ago came to celebrate this anniversary with us," adds the band's frontman Michael Kluch, whose vocal acrobatics, appearance, and movement bring back memories of Freddie Mercury in his prime.
Queenie is once again preparing a rich visual production with special scenery and visual effects. The show will focus on the Queenie band and its history dating back to 2006. Therefore, unlike other concerts during the evening, some of the original band members or guests who are significantly connected to the band's history will also perform.
"Come and celebrate this significant milestone in the history of our band with us. We look forward to seeing you." Queenie – World Queen Tribute Band