Pet Shop Boys is coming back to Prague! With their Dreamworld: The Greatest Hits Live tour, he will present itself to the Czech audience this time at the O2 universe.
december 5, 2023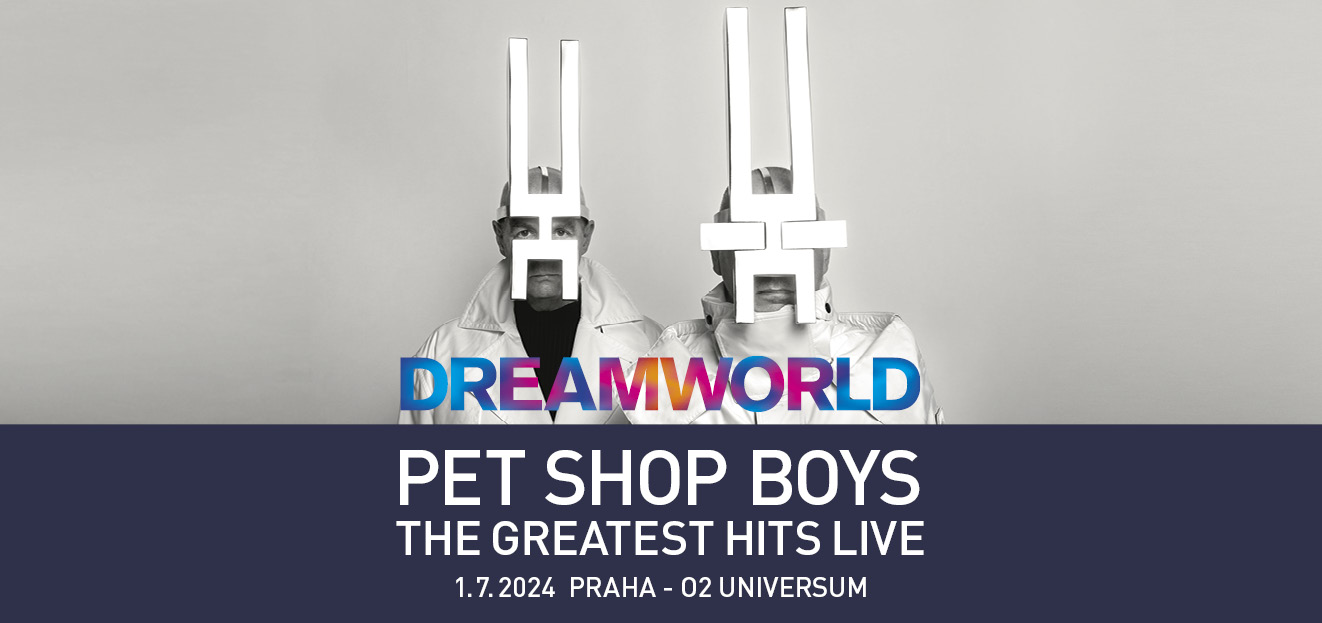 Pet Shop Boys (Neil Tennant and Chris Lowe) are listed in the Guinness Book of Records as the most successful duo in the history of British music. Since signing to Parlophone Records in 1985, they have had 42 UK Top 30 singles, including 22 Top 10 hits and four number one hits. They have released 14 studio albums, all of which reached the UK Top 10 and album charts worldwide, and are currently working on their 15th studio album, due out in spring 2024.
They have worked with a wide range of artists including Dusty Springfield, Lady Gaga, Liza Minnelli, Blur, Madonna, David Bowie, Yoko Ono, The Killers, Girls Aloud, Paul Weller and Noel Gallagher.
In their live performances, Pet Shop Boys created an original style of pop musical theatre, collaborating with directors, designers and artists such as Derek Jarman, David Alden and David Fielding, Zaha Hadid, Sam Taylor-Wood, Es Devlin and Tom Scutt.
To date, PSB have performed in 63 countries to an audience of millions. They have headlined many of the world's leading festivals, including Roskilde, Corona Capital Mexico City, Electric Picnic Ireland, Sonar Barcelona, Primavera Barcelona, Madrid and Porto, Latitude UK, Way Out West Sweden, Bestival and Summer Sonic Japan. In the summer of 2019, PSB headlined BBC Radio 2 Live in Hyde Park, which was watched by a record 1.6 million people on TV. In 2022, they headlined the Other Stage at Glastonbury Festival. They previously performed on the same stage in 2010.
The first ever Pet Shop Boys greatest hits tour, Dreamworld: The Greatest Hits Live kicked off in Milan in May 2022 and then toured arenas in Europe and the UK to great acclaim. London's Evening Standard described their performance at London's O2 Arena as "an ecstatic showcase of 40 years of genius". In September of that year, PSB performed alongside fellow British electronic band New Order on their Unity tour with special guest DJ Paul Oakenfold. As part of Unity, they performed in 11 cities across North America, including two sold-out nights at the Hollywood Bowl.
In June of this year, Pet Shop Boys released the complete collection of SMASH singles – The Singles 1985-2020, covering 35 years of their releases. SMASH reached No. 4 on the Albums Chart. And in June and July, Neil and Chris toured the UK and Europe for the second cycle of Dreamworld: The Greatest Hits Live.
Their as yet untitled fifteenth studio album is produced by James Ford and is scheduled for release in April 2024, when it will also be 40 years since the release of the first Pet Shop Boys record.