The leading Epic Music composers are back with their irresistible live show on tour in Europe
november 15, 2022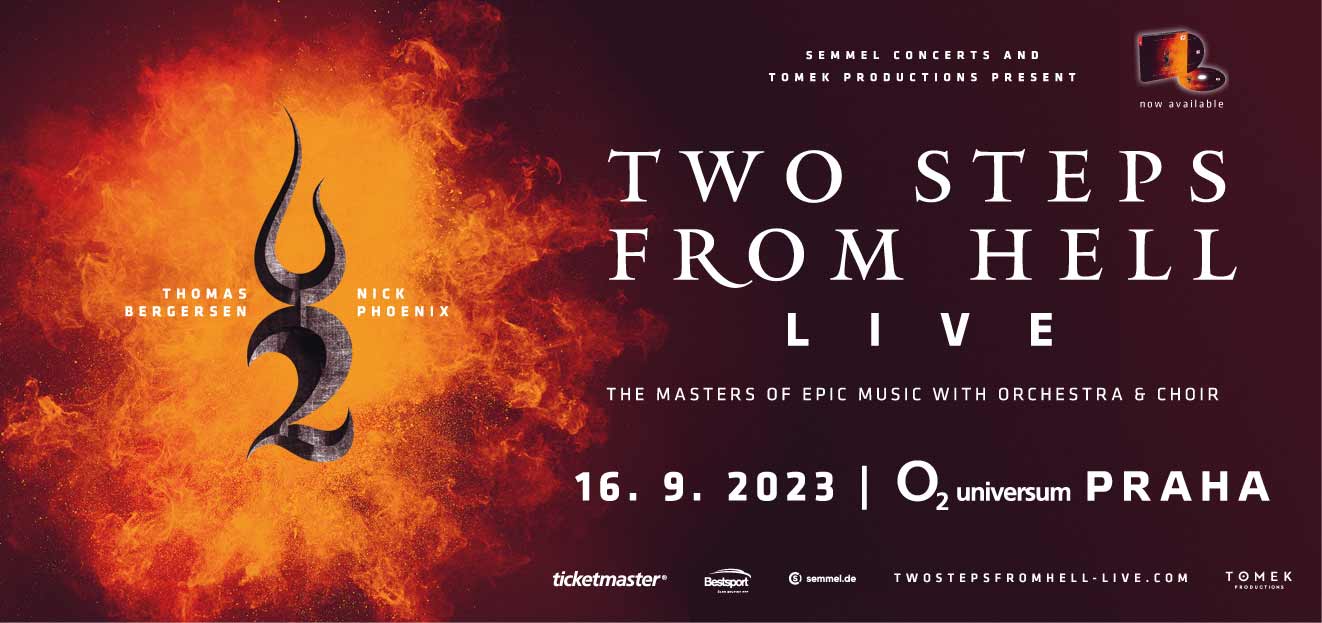 After the great success in 2022, Two Steps From Hell Live will rock the stages again in 2023 with their energetic and irresistible live show – this time in the biggest arenas in Europe. To kick things off, Two Steps From Hell Live will perform for the first time ever at the most important heavy metal festival in the world and at the same time the biggest open air festival in Germany, the W: O: A 2023 (02. – 5.08.2023), followed by live dates from September 2023 on in Germany, Austria, Switzerland, France, Czech Republic and Hungary.
It was only a matter of time before the composer duo Two Steps From Hell – who, with many billions of views on YouTube, Spotify and other streaming platforms, are among the most successful media music producers in the world – decided to go on tour. Their first live tour, long awaited by their fans, started in the summer of 2022 as a world premiere and thrilled audiences across Europe with highlights from the Two Steps From Hell sound cosmos. Two Steps From Hell Live reinterprets orchestral music: young, exciting and innovative. A whole arsenal of different musical themes unfolds, either with a Celtic touch, playing with rock and metal sounds or giving the feeling of diving into one's own movie through cinematic melodies. Besides their unique live band, orchestra and choir, the shows are accompanied by their creators: composers Thomas Bergersen and Nick Phoenix, who never hesitate to take the lead on piano, violin or percussion. A show with strong, lively and uplifting music that awakens emotions and passions, taking you to fantasy worlds where anything is possible and where you are limited only by your imagination.
Everyone has heard the music of Two Steps From Hell, whether they know it or not. Anyone who likes movies, watches sporting events on TV, watches movie trailers, plays video games, listens to radio commercials, watches the Olympics, or just browses videos on YouTube, Instagram, or TikTok has a good chance of having already encountered Two Steps From Hell's music without perhaps being aware of it. Two Steps From Hell are masters in the art of stirring up emotions with their music that resonate for a long time.
Semmel Concerts and Tomek Productions are responsible for this new, unique show.
The album "Two Steps From Hell: Live" was released worldwide on November 04, 2022 via Sony Music.
About Two Steps From Hell
After realizing that their music had potential, in 2006, composers Thomas Bergersen and Nick Phoenix created Two Steps From Hell. They started out by specializing in creating music for the film industry, mainly for movie trailers, a type of music which needs evocative and suggestive themes, but also needs to have immediate effect. Their compositions appeared in the trailers of sagas such as Harry Potter, Pirates of the Caribbean, or Star Trek, and many more. The success of their music soared, and soon jumped from movie theaters to advertisements, television programs, sports competitions, and in general, to any other type of spectacle that needed epic music. In the beginning, Two Steps From Hell only created music for commercial use, but the popularity of their works was such that they decided to release a public album in May 2010 entitled Invincible, a collection of some of their greatest hits. The reception of this album exceeded all their expectations, and the rest, as they say, is history. Their fans, who by that time numbered in the tens of thousands, kept longing for more music, so Thomas Bergersen and Nick Phoenix reinvented themselves and created new songs, not only for the audiovisual industry, but also for the general public, and started releasing albums. The Two Steps From Hell phenomenon was born. These albums became so beloved that their songs accumulated billions of views on YouTube, and an equal number of reproductions on audio streaming platforms, reaching the top of the sales charts, both in physical and digital versions.
About Semmel Concerts
Semmel Concerts Entertainment GmbH is one of the leading live event promoters in Europe and has for years ranked among POLLSTAR's Top 10 promoters worldwide. Together with CTS Eventim AG, Europe's biggest ticket service provider, the company has taken on a leading national and international position under the umbrella of the EVENTIM LIVE entertainment network. The Semmel Concerts network has roughly 150 employees at eight offices throughout Germany. The company also holds shares in Promoters Group Munich and Arena Berlin Betriebs GmbH, and has been the sole shareholder of Show Factory Entertainment GmbH in Vienna since 2020.
In addition to Semmel Concerts division, the company structure also includes Semmel Exhibitions and Semmel Artists & Events. Dieter Semmelmann is the CEO of the company. With a range of national and international themes and a variety of in-house productions, the company organises more than 1,500 events with over 5 million visitors each year. Semmel Concerts Entertainment GmbH has earned several Live Entertainment Awards (LEA), including "Promoter of the Year".
About Tomek Productions
Tomek Productions is based in Vienna/Austria and develops multimedia concert concepts with a focus on film and media music. With events such as "Hollywood in Vienna", which are broadcast worldwide on television, as well as international touring productions such as "The World of Hans Zimmer", Tomek Productions has established itself as a market leader in the field of film and media music events.
The concerts are staged as a creative interplay of music, visuals, light and space, creating a harmonious, captivating and emotional ambience.
THE OFFICIAL SELLER OF TICKETS FOR EVENTS AT THE O2 UNIVERSUM IS TICKETMASTER. WE DO NOT WARRANT THE VALIDITY OF TICKETS PURCHASED FROM OTHER SELLERS.