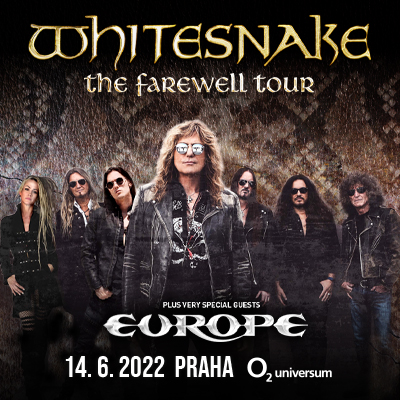 14.6.2022 20:00
WHITESNAKE & EUROPE
Prodej vstupenek byl ukončen.
Data
14.6.2022 20:00
Vstup od
18:30
Místo
O2 universum, Praha
Pořadatel
LIVE NATION CZECH REPUBLIC s.r.o.
Ke stažení
Orientační plán WHITESNAKE & EUROPE Ticketmaster (60.75 Kb)

Cena

1 890 - 2 290 CZK
---
vozíčkář + doprovod
1 890 CZK + 1 CZK

Prodej / rezervace
Prodej vstupenek byl ukončen.
Pokladny

Pokladny u vstupu č. 1, O2 arena
Po - Pá
9:00 - 12:00
12:30 - 17:00
Den akce
10:00 - 1 h po začátku akce

Informace
Z akce jsou ze strany Bestsport, a.s. pořizovány záznamy návštěvníků a dalších osob v souladu se Zásadami pro zpracování a ochranu osobních údajů.
Multi-platinum, legendary rock 'n' roll band Whitesnake, founded by singer and former DEEP PURPLE member David Coverdale, is embarking on a Farewell Tour to cap off a successful career spanning more than 40 years.
Founded in 1978 by former Deep Purple singer David Coverdale, the band have earned multi-platinum albums including 'TROUBLE', 'LOVEHUNTER', 'READY AND WILLING' and 'COME AN' GET IT', 'SLIDE IT IN' & 1987's self-titled mega-million-selling smash-hit album, 'WHITESNAKE'.  From these albums came multiple top 10 hits worldwide, including 2 number 1 singles with 'Here I Go Again' and 'Is This Love' The world-renowned group featuring DAVID COVERDALE (vocals), REB BEACH (guitar/vocals), JOEL HOEKSTRA (guitar/Vocals), TANYA O'GALLAGHAN (bass/vocals), TOMMY ALDRIDGE (drums), MICHELE LUPPI  (keys/vocals) and introducing the extraordinarily talented DINO JELUSICK (keys/guitar/vocals) are coming to venue near you soon.
The Farewell tour will feature songs from the band's 13 studio recordings, including greatest hits such as 'Here I Go Again' and 'Is This Love'. This latest tour follows on from the globally successful 2019 'Flesh & Blood' tour, which saw the seasoned musicians play 65 shows in 30 countries and was attended by more than 750,000 fans in total.
THE OFFICIAL SELLER OF TICKETS FOR EVENTS AT THE O2 UNIVERSUM IS TICKETMASTER. WE DO NOT WARRANT THE VALIDITY OF TICKETS PURCHASED FROM OTHER SELLERS.