ALTER BRIDGE rock titans have announced a European tour. See them at the O2 universum in Prague on November 12, 2022
april 26, 2022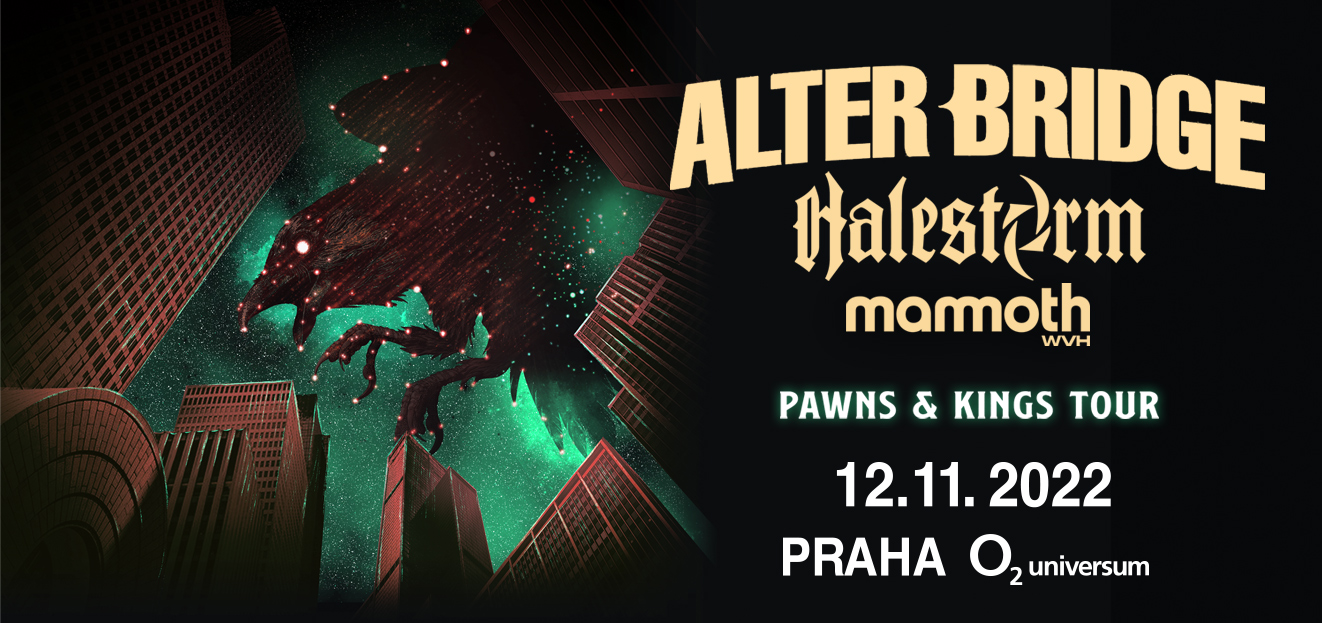 Rock titans ALTER BRIDGE are pleased to confirm an extensive European tour for this winter. The "Pawns & Kings" tour will visit 25 cities in 18 countries and will start on November 1 in Hamburg, Germany and end on December 12 in London, England.
Riffs overflowing with Alter Bridge are currently working hard to record their seventh studio album, the successor to the highly acclaimed album "Walk The Sky", which was released in 2019 and earned the band first place in the market on more than a dozen charts worldwide. The band shares behind-the-scenes photos on their social networks to encourage fans! The as-yet-untitled album is due out later in 2022, so those who buy tickets to these concerts will be the first in the world to hear the new songs live.
TICKET PRICES FROM 1290, – TO 1590, – CZK
TICKETS FOR SALE IN THE TICKETMASTER NETWORK FROM 29 April 2022 at 11:00
ALTER BRIDGE FAN CLUB & O2 ADVANCE SALE FROM 27. 4. 2022 11:00 – 29. 4. 2022 11:00
LIVE NATION CLUB ADVANCE SALE FROM 28. 4. 2022 11:00 – 29. 4. 2022 11:00
Grammy winners, rockers HALESTORM, will join them as special guests. This acclaimed Pennsylvania band will release their lightning new album "Back From The Dead" on May 6, which also includes their latest single "The Steeple". Set Halestorm, known as an enchanting live musical force, will surely be an unmissable delicacy.
Every night, the party is unleashed by none other than MAMMOTH WVH, who visit some countries for the first time in support of their acclaimed debut album. They won the "Best Grammy Rock" award for the single "Distance" and are currently honing their skills on the road with Guns N Roses, so make sure you get to their set on time!
Inimitable Myles Kennedy of Alter Bridge states: "Alter Bridge is returning to the EU / UK this winter with our friends from Halestorm and Mammoth. It will be a delicious sound buffet. Don't miss it! "
Dynamo Halestorm Lzzy Hale says: "All our European lunatics, we missed you and we are so happy to announce that we will finally cross the ocean to go to see you all again! This time we share the podium with all our friends from the legendary Alter Bridge and with the unique Mammoth WVH! Definitely don't miss this show! I can't wait to experience the passion of you, the Euro Rock fans !!! See you in front and in the middle! "
THE OFFICIAL SELLER OF TICKETS FOR EVENTS AT THE O2 UNIVERSUM IS TICKETMASTER. WE DO NOT WARRANT THE VALIDITY OF TICKETS PURCHASED FROM OTHER SELLERS.