Billy F. Gibbons, singer and guitarist of ZZ Top, will bring his solo band to the Czech Republic for the first time in June
january 24, 2023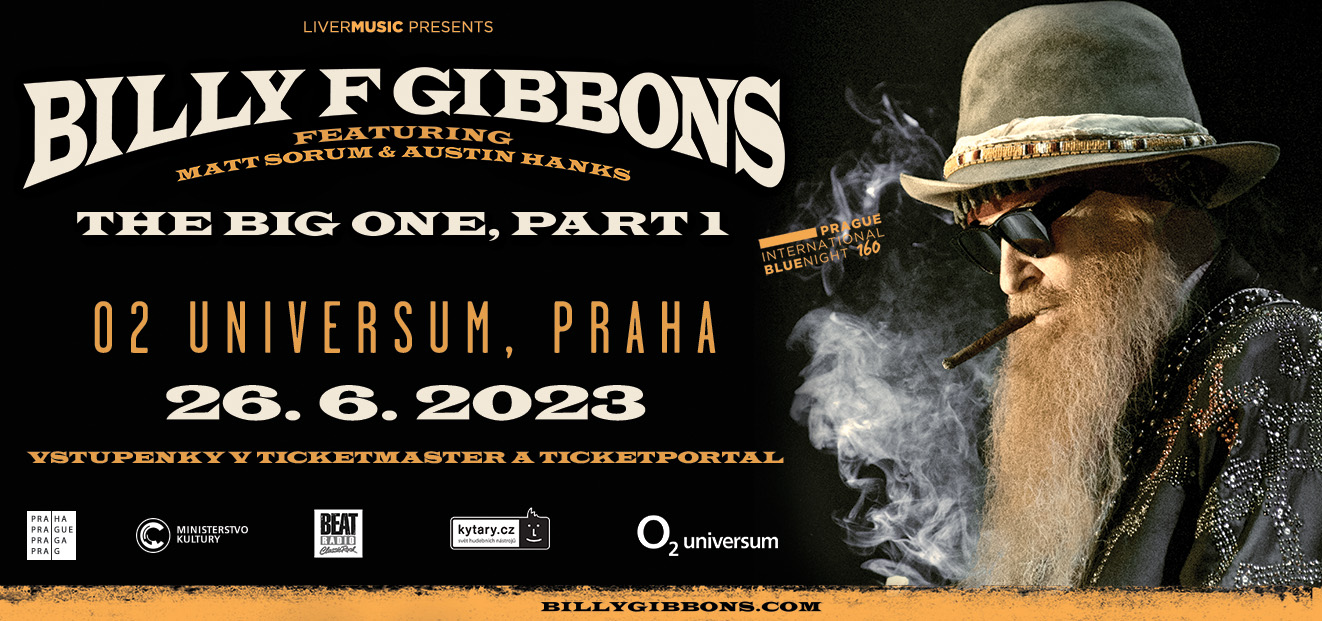 American singer and guitarist of ZZ Top Billy F. Gibbons will show not only his typical long beard, but also why he is considered one of the best blues-rock guitarists in history. For the first time ever in the Czech Republic, the Blues Music Awards winner will perform here with his solo band The BFGs, which includes drummer Matt Sorum (The Cult, Guns N' Roses, Velvet Revolver) and left-handed guitarist Austin Hanks, who has worked with Gibbons before and who takes care of the rhythm in the trio. Audiences can look forward to top-notch blues and Southern rock.
Tickets are on sale at Ticketmaster and Ticketportal from 10am on January 26. The concert is organised by Liver Music as part of the Prague International Bluenight series.
Billy F. Gibbons has been associated with ZZ Top as frontman for over half a century. In recent years, however, he has also successfully pursued his solo career, recording three albums with the trio The BFGs – 2015's Afro-Cuban-influenced Perfectamundo, three years later the bluesy The Big Bad Blues and 2021's award-winning Hardware. This year's tour will begin on June 10 in Sweden and will take Billy Gibbons to Finland, Norway, Denmark, Germany, Austria, the UK, France, Belgium and the Netherlands in addition to the Czech Republic.
Gibbons himself says: "The last ZZ Top tour was great and we decided to transfer the energy from that tour to our musical alter egos. And so THIS tour was born! We look forward to bringing the experience of The BFGs shows to all our friends in Europe and the UK. See you soon!"
Billy F. Gibbons was born in Houston, Texas in 1950. Through listening to local radio, he developed a passion for blues and rock. He received his first electric guitar as a Christmas present in 1963. When he was fourteen he formed his first band, The Saints. In 1969 he then put together the formation ZZ Top with bassist Dusty Hill and drummer Frank Beard. Gibbons has collected vintage guitars throughout his life and owns very rare and prized pieces, including the one that has become synonymous with him – the Sunburst Les Paul Standard (which he nicknames Pearly Gates). In addition to music, Gibbons holds several automobile patents, is an active painter, and collects rare African art and artifacts.
For more information, visit www.livermusic.cz.