Clash of the Stars⁵ – THE CHAMP IS HERE!
april 24, 2023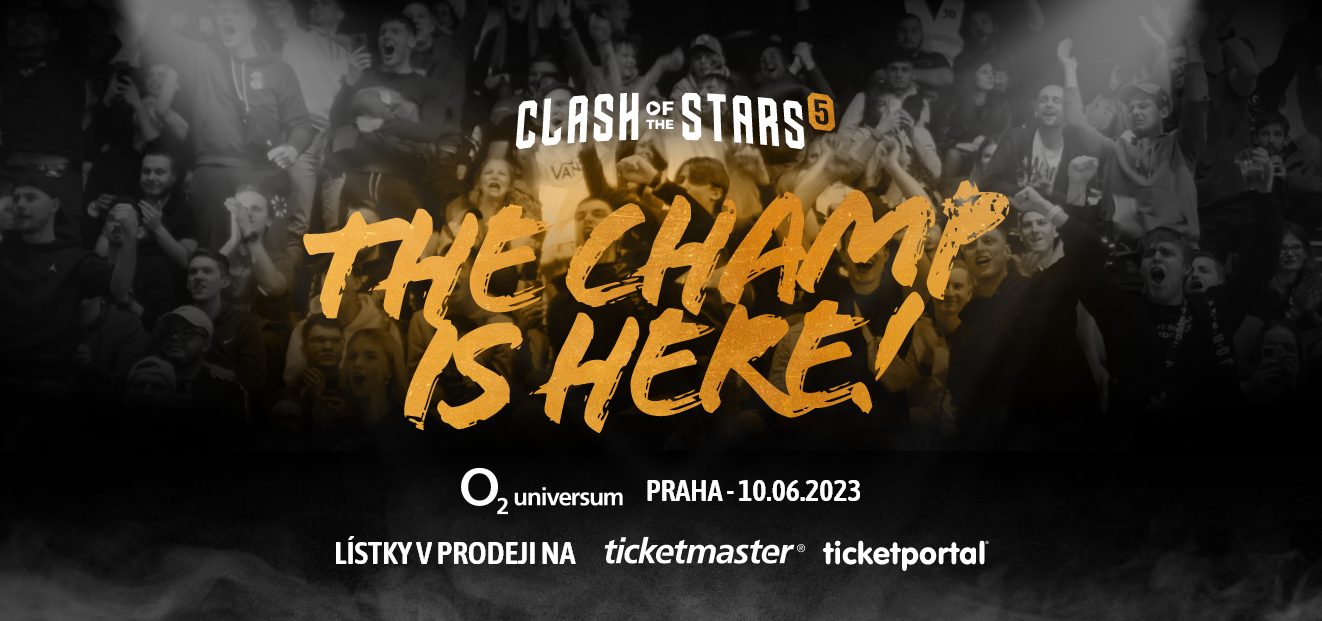 Clash of the Stars on the fifth! Such is the result of the equation in which the variables are Woodpecker and Dynamo! These two fighters will be the actors of the main and title match of the fifth Clash of the Stars gala on June 10, 2023 in Prague's O2 universum hall.
THE CHAMP IS HERE! Who will become the first ever CLASHE Champion? Will it be Marek "Datel" Valášek or Tomáš "Dynamo" Križan? The whole Czech Republic and Slovakia are asking themselves this question.
As always, the audience can look forward to an evening full of crazy fun and an electrifying atmosphere! The second main match of the gala evening will be the fight between Tadeáš "Gangstaboy" Veselý and Tadeáš "Mawar" Růžička. For many, an unreal fight becomes a reality! The heated clash between Karlos Benda and Diego Kotlár is also highly anticipated. At the fifth CLASH OF THE STARS gala, viewers will also witness the very first match of height-handicapped fighters! The smaller in height, the bigger in courage and spirit!
After breaking up with Shopaholicadel, David "Fregamercz" Pražák begins a new chapter in his life full of sports, and he will compete with Kluk si kniemin. After a long time, the tiktoker and influencer Honzi Michálek is also returning to the event, who Daniel "Seaser" Siruček was eyeing as a rival. The popular Ostrava influencer Hanka "Krutohanka" Gelnarová will this time compete with a new face in the ranks of Clash of the Stars Satnada. Pomalu Snejksi is coming to repair his reputation after a lost premiere, and the holder of the fastest K.O. will stand in his way. in Clash the King of Beroun.
Many other great matches will be seen already on 10/06/2023 in Prague's O2 universum hall during the gala evening CLASH OF THE STARS⁵ – THE CHAMP IS HERE!
A world-class light and music show and an electrifying atmosphere are already a matter of course at our gala evenings! Don't wait for anything, buy your tickets and be with us at this unique event! We look forward to seeing you on June 10 in the O2 universum hall.
VIP tickets include a seat near the cage, catering (valid for ULTIMATE VIP) and priority VIP entrance to the lobby.
THE OFFICIAL SELLERS OF TICKETS FOR EVENTS AT THE O2 UNIVERSUM ARE TICKETMASTER AND TICKETPORTAL. WE DO NOT WARRANT THE VALIDITY OF TICKETS PURCHASED FROM OTHER SELLERS.