Danish rock'n'roll rebels Volbeat announce an extensive world tour. On October 28, 2022, they will visit the O2 universum in Prague
june 28, 2022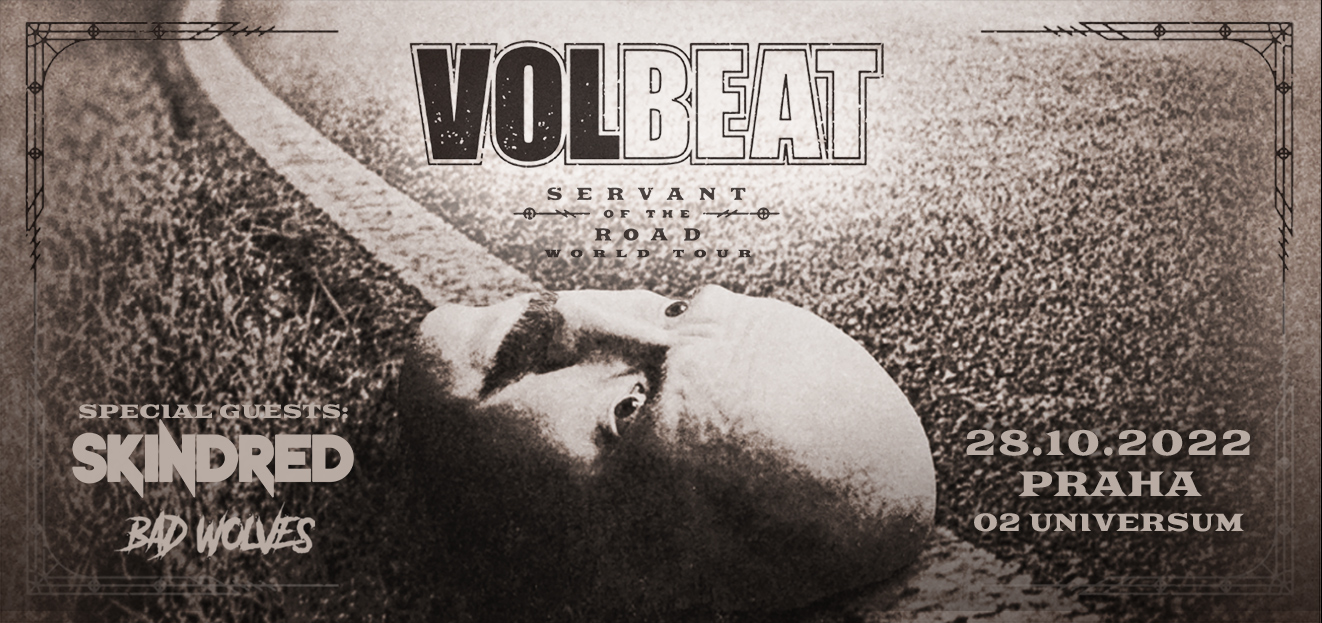 Danish rock'n'roll rebels Volbeat announce an extensive Servant Of The Road World Tour, which will visit 32 stops across Europe! Special guests will be Skindred and Bad Wolves.
According to Louder's description of "titanic heavy metal riffs colliding with rock'n'roll groove", fans can expect a mix of classic Volbeat songs, deep songs and favorite hits from their rich career, including their acclaimed latest album Servant Of The Mind.
Volbeat says: "Finally, after such a long pause, we are excited to bring our friends in continental Europe and the UK a proper Volbeat tour. We are so excited and can't wait to see them all! We are very lucky to have we can take Skindred and Bad Wolves with us and share this experience with two incredible bands that we're lucky enough to call friends."
Danish icons recently dazzled British fans in a high slot on the main stage at the Download Festival, and the Hot Press wrote a poem after him: "As always, Volbeat are strong and striking." Metal Talk concluded: "It's quite a spectacle that you won't believe until you see it …. A great, unadulterated performance that's as much fun as it is musically respectable." But not only at Volbeat festivals are they captivating, Distorted Sound caught a rare club performance in London last month and gave a 10/10 review, declaring: "This is a band born for fun and a band that is at the very top of its game."
Tickets will definitely sell out fast, don't miss the opportunity to see Volbeat live on this spectacular, full-production, arena tour!
Volbeat – Michael Poulsen (guitar / vocals), Jon Larsen (drums), Rob Caggiano (guitars) and Kaspar Boye Larsen (bass) – have had two decades of their career, sharing stages with genre legends such as Black Sabbath, Metallica , Motorhead, Slipknot, Megadeth, Anthrax and more. During their career, they have collected almost three billion streams, received a Grammy nomination for Best Metal Performance for "Room 24 (feat. King Diamond)" from the acclaimed (and gold) album Outlaw Gentlemen & Shady Ladies from 2014 and won several Danish Music Awards .
Since its founding in 2001, Volbeat has moved from Copenhagen clubs to stages around the world, including the famous Telia Parken stadium with a capacity of 50,000 spectators in Denmark (making them the only domestic artist to ever sell out the hall). During eight record albums, the band collected first places (including the top ten places in the US Mainstream Rock charts, which is the most of all bands outside of North America), multiplatinum certificates, awards and awards around the planet. The previous studio album Rewind, Replay, Rebound was released in 2019 and secured the group the highest ranking in the national album rankings in Great Britain (# 7) and brought the hits "Last Day Under The Sun", "Die To Live (feat. Neil Fallon) "and" Leviathan ". A live album with songs recorded during the subsequent world tour, Rewind, Replay, Rebound: Live in Deutschland, was released digitally in November 2020. They also contributed a cover version of "Don't Tread On Me" on The Metallica Blacklist, with all proceeds from the song being intended for the benefit of the All Within My Hands Foundation and the Danish Børne Cancer Fonden. Servant Of The Mind, the latest album, recorded and recorded during the shutdown and quarantine required by the COVID-19 pandemic, is currently being released by EMI Records and features the distinctive and captivating sound of Volbeat, which mixes Poulsen's fiery rhythm and storytelling talent.
THE OFFICIAL SELLER OF TICKETS FOR EVENTS AT THE O2 UNIVERSUM IS TICKETMASTER. WE DO NOT WARRANT THE VALIDITY OF TICKETS PURCHASED FROM OTHER SELLERS.