Electric Universe: premiere of a unique concept combining the worlds of classical and electronic music in Prague's O2 universum
august 29, 2023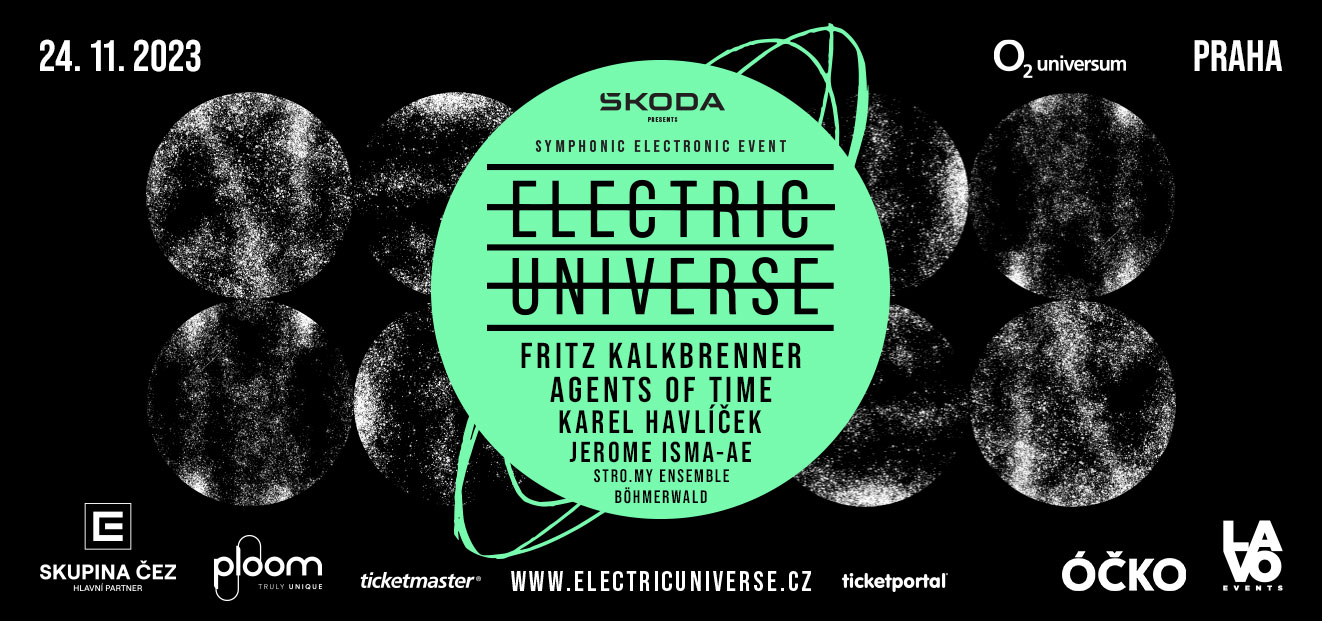 The spectacular musical and audiovisual show Electric Universe, which will connect two seemingly disparate musical worlds on November 24 from 9 pm in Prague's O2 universe, will be opened by a concert by music composer and producer Karel Havlíček. Karel Havlíček will follow the opening classical compositions from his work in a modern concept with an electronic live set, both with the accompaniment of the Stro.My Ensamble symphony orchestra. Later during the night, the planetary system will rearrange itself into a purely electronic position performed by world stars such as Fritz Kalkbrenner, Agents Of Time, Jerome Isma-Ae and others.
Visitors to the Electric Universe night will be treated to an eight-hour journey through the space-time of the new universe, where the combination of classical and electronic music will create its fourth dimension and source of universal dance energy. Tickets in two categories – "Regular" tickets from 1,490 CZK and "Premium" tickets for 2,990 CZK with VIP services, are on sale in the Ticketmaster and Ticketportal networks in a limited capacity. The special Electric promo still applies, when you buy 2 "Regular" tickets, one ticket costs 1250 CZK.
"All my musical career I have been looking forward to a similar moment when I will have the opportunity to participate in a non-traditional event of a similar format. Until now, I was used to a more intimate environment for a smaller audience. I feel a huge respect and commitment to give the maximum performance and transport the audience into the world of my music," explains the composer and one of the main headliners of the evening, Karel Havlíček.
The musical dramaturgy of the evening consists of several parts. The opening performance of Karel Havlíček with the symphony orchestra will take the audience through his classic author's work accompanied by playing the grand piano. Subsequently, the format of the event will change to the electronic genre, and part of Karl's live DJ set will be accompanied by the 30-member Stro.My Ensemble symphonic music ensemble with a 30-member choir.
In the next part of the evening, the electronic prelude will be followed by world-class foreign guests. A special Berlin producer and master of analog sound, Fritz Kalkbrenner, who after a sold-out concert returns to Prague after 3 years. Stars of this year's Tomorrowland and residents of the Afterlife concept – the Italian duo Agents Of Time, with their breathtaking 3D projections. Likewise, the talented German producer Jerome Isma-ae. The likable and now legendary DJ won the hearts of the home audience during performances at popular electronic events such as Sensation White. He will visit the Czech Republic again after more than 10 years. Jerome is currently preparing a new self-titled album, on which he will collaborate, among other things. with Karel Havlíček, where together they produce a song called Electric Universe. It will also become the anthem of this year's premiere edition of this autumn event.
"Electric Universe is the result of a team effort of many people who work continuously to create an interactive experience in the form of a combination of classical and electronic music, combined with a spectacular show. I believe that we are coming up with a new concept and a great spectacle that will stir up the stagnant waters of the domestic electronic scene. Our goal is to provide visitors with a great audiovisual experience full of positive energy and unforgettable moments," adds Martin Kučera, CEO of the organizing agency Lavo Events.
In addition to a high-quality musical experience, O2 universum visitors can expect a captivating audiovisual production based on precise sound and a giant panoramic 4K LED screen with an area of 120 m2. There will be a custom-made visual projection, a programmed light show or other technological and interactive 3D elements that will take the participants through a completely different space-time. The visual content of the show will include Maxim Havlíček, internationally recognized visual artist, brother of Karel Havlíček, will also participate.
The general partner of the Electric Universe event is Škoda Auto Česká republika, which will present a complete portfolio of electric and electrified cars from the iV family as part of the main event. As well as other services and solutions related to the gradual transition to emission-free mobility. The official car of the event is the Škoda Enyaq Coupé RS iV. The main partner of the event is the ČEZ Group, a reliable producer and supplier of tomorrow's clean energy without compromise.
About the performers:
Fritz Kalkbrenner is a German musician, singer and producer who specializes in electronic music. He is the younger brother of the famous DJ and producer Paul Kalkbrenner, with whom he recorded the single Sky and Sand, which subsequently became an international hit. His music combines elements of house, techno and pop, while his vocals are often a prominent part of his compositions. Fritz Kalkbrenner is known for his energetic live performances and his work is popular both among electronic music fans and the wider public.
Agents of Time is an Italian music project formed by Andrea Di Ceglie and Luigi Tutolo, renowned producers and DJs, devotees of live performances and masters of studio sound. Their live sets are a hardware and improvisational performance that mixes house, techno and acid, which is the core of their current work. At the same time, their shows are complemented by breathtaking video projections created specifically for their music. They have released tracks on several leading labels and are globally sought-after electronic performers who host the biggest electronic events, e.g. this year's Tomorrowland in Belgium, Exit in Serbia or the world tour of the Afterlife project, of which they are regular guests alongside their friends Tale Of Us. They will be visiting the Czech Republic for the first time ever, and their performance will be the energetic highlight of the Electric Universe night, when, in addition to their captivating set, we can also look forward to large-format 3D projections on a giant LED wall.
Karel Havlíček is a successful music composer and producer, whose extensive portfolio includes original music for films, series, commercials and musicals. His compositions were heard, for example, in the American film Lion Ark, the successful horror film Ghoul by Petr Jákl Jr. or the series Therapy or Mamon, which come from the original production of HBO Europe. Before becoming a freelance musician, songwriter and producer, he played and composed in the band Southpaw. After many years in Los Angeles, he currently works in his Kabelovna Studios in Prague. Due to his many years of experience in the field of sound and music composition, he soon became one of the most sought-after music composers in Europe and the USA. The debut album Spoken is a personal expression of his life experiences, masterful control of the piano and other instruments. Karel Havlíček is known for his innovative work and progressive approach to music, which has won recognition from both critics and listeners around the world. Its universality promises a perfect experience not only in the classical part, but also in the electronic set, both accompanied by the Stro.My Ensemble symphony orchestra.
Stro.My Ensemble is a musical ensemble based on an innovative approach to music and immersive live performances that often include visual and performative elements. The group focuses on experimental music and connects different genres and musical styles. The creation is characterized by a combination of acoustic instruments and electronic elements, which creates a unique sound backdrop. Stro.My Ensemble regularly performs on festival stages and is recognized both domestically and internationally as an innovative force in the field of experimental music.
Jarome Isma-ae is a renowned German music producer and DJ, he ranks among the leading creators of the progressive trance and progressive house genre. His unique musical style combines melodic elements with an energetic rhythm, appealing to a wide fan base around the world. His compositions are regularly included in the charts of the best electronic hits and are supported by leading DJs and producers. Jarome Isma-ae has collaborated with leading music labels, including Armada Music and Anjunabeats, and his work is often included in compilations and radio shows.
THE OFFICIAL SELLERS OF TICKETS FOR EVENTS AT THE O2 UNIVERSUM ARE TICKETMASTER AND TICKETPORTAL. WE DO NOT WARRANT THE VALIDITY OF TICKETS PURCHASED FROM OTHER SELLERS.