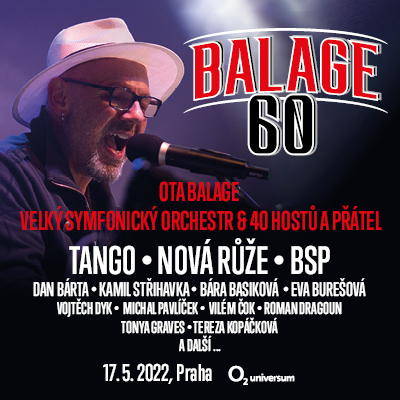 17.5.2022 20:00
BALAGE 60 & GUESTS
Date
17.5.2022 20:00
Place
O2 universum, Praha
Organizer
LIVE NATION CZECH REPUBLIC s.r.o.
Download
Orientation Plan Orientační plán BALAGE 60 & HOSTÉ Ticketmaster (217.36 Kb)

Price

990 CZK - 1 690 CZK

Sale / reservation
Ticket sales have ended.
Box offices

Box office - entry no. 1, O2 arena
Mon - Sun
10:00 - 12:00
12:30 - 19:30
Event day
10:00 - 1 hour after the start of the event

Information
Bestsport, a.s. records of visitors and other persons in accordance with Privacy Policy.
A unique concert for the 60th birthday of the legend of the Czech music scene, Mr. Ota Balage!
PURCHASED TICKETS FOR THE ORIGINAL DEADLINE (November 9, 2021) REMAIN VALID FOR A NEW CONCERT DATE.
Performers: Ota Balage, Grand Symphony Orchestra, 40 guests and friends
Guests: Tango, Nová růže, BSP, Bára Basiková, Eva Burešová, Tereza Černochová, Tonya Graves, Dan Bárta, Vilém Čok, Roman Dragoun, Vojta Dyk, Mirek Chyška, Mirek Imrich, Jiří Křivka, Michal Pavlíček, Kamil Střihavka
We firmly believe that this unique concert, which will be recorded by Czech Television, will not only be a great musical experience, but also one of the first concerts after the Dark Ages, which will safely return visitors to the stands of our concert halls.
THE OFFICIAL SELLER OF TICKETS FOR EVENTS AT THE O2 UNIVERSUM IS TICKETMASTER. WE DO NOT WARRANT THE VALIDITY OF TICKETS PURCHASED FROM OTHER SELLERS.