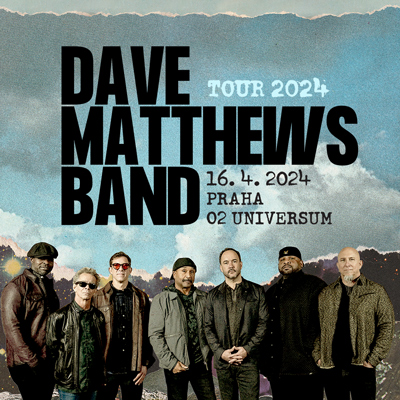 16.4.2024 19:30
DAVE MATTHEWS BAND
Date
16.4.2024 19:30
Entry from
18:30
Place
O2 universum, Praha
Organizer
LIVE NATION CZECH REPUBLIC s.r.o. Organizer
Download
Orientation Plan DAVE MATTHEWS BAND Ticketportal (219.42 Kb)

Price

CZK 1 690 – 2 490
---
wheelchairer + guide
CZK 1 690 + CZK 1

Order wheelchair tickets from Ticketmaster (ticket@ticketmaster.cz) and Ticketportal.

Sale / reservation
Available in the Ticketmaster and Ticketportal sales networks

Box offices

Box office – entry no. 1, O2 arena
Mon - Fri
9:00 - 12:00
12:30 - 17:00
Event day
10:00 - 1 hour after the start of the event

Information
Bestsport, a.s. records of visitors and other persons in accordance with Privacy Policy.
Organizer – LIVE NATION CZECH REPUBLIC s.r.o.
Majitel vstupenky je povinen nosit ji po celou dobu pobytu v O2 universum a na požádání pořadatele ji předložit ke kontrole. Vstupenka platí jen pro uvedený den, akci, místo konání, sedadlo. Je platná pouze s kontrolním ústřižkem a opravňuje k jednomu vstupu do arény. Po opuštění O2 universum pozbývá platnosti. Dodatečnými úpravami se stává vstupenka neplatnou. V případě uplynutí platnosti vstupenky, jejího poškození, zničení, ztráty nebo krádeže nelze vstupenku vyměnit ani nahradit její hodnotu ani poskytnout jinou kompenzaci. Další převod, prodej nebo zbavení se vstupenky bez písemného souhlasu pořadatele nebo pokus o další prodej za cenu vyšší, než je na vstupence vytištěna, způsobuje její neplatnost. Majiteli takové vstupenky bude odepřen vstup na místo konání akce nebo bude vyveden a zakládá to důvod pro zabavení vstupenky bez náhrady její nominální ceny nebo jiné kompenzace.
Vstupenka je cenina, její padělání a pozměňování je zakázáno. Pořadatel odepře vstup na akci všem majitelům takových vstupenek.
Zaplacené vstupné se nevrací, vstupenka se nevyměňuje. V případě zrušení akce zodpovídá za vrácení vstupného pořadatel. V případě zrušení akce uplatní majitel vstupenky nárok na vrácení vstupného dle pokynů pořadatele. Servisní poplatky se nevracejí. Náhrada zvláštních nákladů (např. hotel, jízdní výlohy) se neposkytuje. Změna programu vyhrazena. Datum a čas akce mohou být změněny bez upozornění.
Je zakázáno fotografování a pořizování obrazových a zvukových záznamů v průběhu akce včetně přestávek. Dále je zakázáno používání laserových ukazovátek, vnášet do objektu na akci kamery, profesionální fotoaparáty a tablety.
Na akci jsou poskytovány slevy. Pořadatel poskytuje slevy na vstupném držitelům průkazu ZTP/P – vozíčkářům a jejich průvodcům.
Při plnění povinností vyplývajících z prodeje vstupenek bude IRSnet CZ s.r.o. postupovat ve shodě s platnými obchodními podmínkami pro poskytování služby prodej vstupenek na sportovní a kulturní akce prostřednictvím prodejní sítí Ticketmaster a Ticketportal. Aktuální znění obchodních podmínek je k dispozici na www.ticketmaster.cz a www.ticketportal.cz.
Dave Matthews Band has sold more than 25 million tickets since inception, making them the second largest ticket-seller in history. Matthews recently spoke with The Wall Street Journal about the band's new album, Walk Around The Moon, and their passion for touring. Read the feature HERE.
Pitchfork said, "Past and present iterations of Dave Matthews Band freely intermingle on Walk Around the Moon…['Monsters' and 'Break Free'] are highlights for the band as storytellers…"
In this GQ video, Matthews breaks down the band's most iconic tracks, including "Satellite," "Crash into Me," "The Space Between," "Everyday" and "Madman's Eyes." He also appeared recently on "The Howard Stern Show." Dave Matthews Band, which has sold a collective 38 million CDs and DVDs combined, will close out 2023 with a fall North American tour and shows in Pretoria and Cape Town, Africa.
About DMB:
The Dave Matthews Band, often referred to as DMB, is an American rock group founded in Charlottesville, Virginia, in 1991. The band is known for its unique blend of various musical genres, including rock, jazz, folk, and world music, creating a distinctive sound that defies easy categorization. The founder and frontman of the band is singer-songwriter Dave Matthews, who is celebrated for his emotive vocal delivery and intricate chord structures. The Dave Matthews Band is also renowned for its high-energy live performances and extensive jam sessions, earning a loyal fanbase that has contributed to making them one of the most successful touring acts. Despite relatively modest commercial radio and chart success, the band has multiple platinum albums to their name and has received numerous music awards. Their live shows are often considered events in themselves, characterized by improvisational renditions of their songs, intricate lighting effects, and an overall atmosphere that turns each concert into a unique experience.
THE OFFICIAL SELLERS OF TICKETS FOR EVENTS AT THE O2 UNIVERSUM ARE TICKETMASTER AND TICKETPORTAL. WE DO NOT WARRANT THE VALIDITY OF TICKETS PURCHASED FROM OTHER SELLERS.