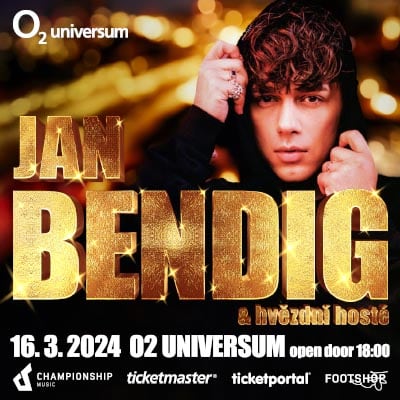 16.3.2024 19:00
JAN BENDIG
Organizer – Championship Music s.r.o.
Vstupenka platí jen pro uvedený den, hodinu, akci, místo konání a sedadlo, je platná pouze s kontrolním ústřižkem a opravňuje k jednomu vstupu. Po opuštění místa konání akce pozbývá platnosti. Dodatečnými úpravami se stává vstupenka neplatnou. V případě uplynutí platnosti vstupenky, jejího poškození, zničení, ztráty nebo krádeže nelze vstupenku vyměnit ani nahradit její hodnotu ani poskytnout jinou kompenzaci. Další převod, prodej nebo zbavení se vstupenky bez písemného souhlasu pořadatele nebo pokus o další prodej za cenu vyšší, než je na vstupence vytištěna, způsobuje její neplatnost. Držiteli takové vstupenky bude odepřen vstup na místo konání akce nebo bude vyveden a zakládá to důvod pro zabavení vstupenky bez náhrady její nominální ceny nebo jiné kompenzace.
Vstupenka je cenina, její padělání a pozměňování je zakázáno. Pořadatel odepře vstup na akci všem držitelům takových vstupenek.
Zaplacené vstupné se nevrací, vstupenka se nevyměňuje. V případě zrušení akce zodpovídá za vrácení vstupného pořadatel. V případě zrušení akce uplatní držitel vstupenky nárok na vrácení vstupného dle pokynů pořadatele. Náhrada zvláštních nákladů (např. hotel, jízdní výlohy) se neposkytuje. Změna programu vyhrazena. Datum a čas akce mohou být změněny bez upozornění.
Je zakázáno fotografování a pořizování obrazových a zvukových záznamů v průběhu akce včetně přestávek, vyjma malých kompaktních fotoaparátů. Dále je zakázáno vnášet do objektu kamery, profesionální fotoaparáty, tablety a zároveň je zakázáno používání laserových ukazovátek.
Pořadatel poskytuje slevy na vstupném vozíčkářům (držitelům průkazu ZTP/P) a jejich průvodcům.
Při plnění povinností vyplývajících z prodeje vstupenek bude IRSnet CZ s.r.o. postupovat ve shodě s platnými obchodními podmínkami pro poskytování služby prodej vstupenek na sportovní a kulturní akce prostřednictvím prodejní sítí Ticketmaster a Ticketportal. Aktuální znění obchodních podmínek je k dispozici na www.ticketmaster.cz a www.ticketportal.cz.
Honza Bendig did a lot in 2023. He sold out one of the biggest halls in Prague, played more than 150 concerts, released clips that have millions of views – including the one with Rytmus. He is about to celebrate a successful year with his fans with a concert at the O2 universum.
Honza Bendig drew attention to himself for the first time in 2009, when he was a finalist of the Czech Slovak Superstar. He has come a long way since then, focusing on his solo career and playing hundreds of concerts. For March 2024, he and his team are planning a monstrous epic show with great guests. Monika Bagárová, Markéta Konvičková, Michal David, Refew and Honza's brother Marsell took part in the last show at Forum Karlín. The concert was supported by an elaborate light show involving giant LED screens.
It is clear that he will push the already very ambitiously set bar a good bit higher. The spectacular show will offer Honza's most essential hits, of which there are indeed many. This is also evidenced by Honza's numbers on YouTube, where his work has an incredible 179 million views. This year saw the release, for example, of his joint song Romalandia with Rytmus, the song Budeme kelovat with Refew, or the composition Nebe Peklo Ráj in collaboration with Markéta Konvičková. During the concert, we can also look forward to star guests whose names Honza is keeping secret for the time being. But it will again be about the brightest names of the Czech and foreign music scene.
Honza Bendig does not focus only on music. With his manager Lukáš Rejmon, he produces series and reality shows. He fills his YouTube channel with them called (with a slight exaggeration) Romflix.