Fantasy on wheels will lead you to the trail of disappearing toys! At the O2 universum on October 30, 2022
may 31, 2022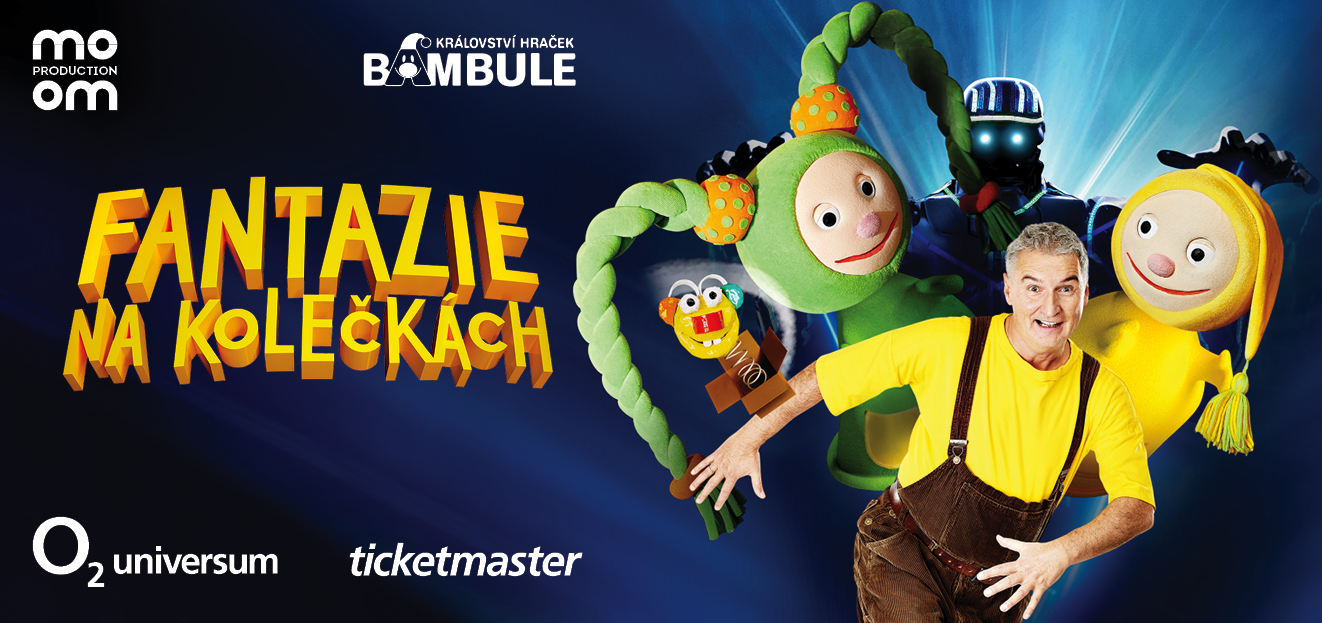 Michal Nesvadba's magnificent musical revue, Fantasy on Wheels, will be presented in ten domestic cities in the autumn. The original musical show for the whole family, created by the popular children's actor Michal Nesvadba, Fantasy on Wheels eb or the Mystery of Disappearing Toys, will finally have its world premiere. The two-hour musical revue for whole families, directed by Lumír Olšovský and under the baton of Ondřej G. Brzobohatý, will feature 40 performers in original narrative costumes of elves and fairy-tale characters surrounded by an inflatable kingdom, enlivened by the sporting performances of masters on freestyle bikes, scooters and in-line skates. Michal will bring František and Fanynka from Kouzelná školka live for the first time and Bafík, Zeleňour or Žluťoun from well-known television series will not be missing.
"In my performances across the country, my children, parents, grandparents and friends kept telling me to do some big show in the style of those American children. And that moment is here. The project is a gift to those who grew up in Magic Kindergarten and the culmination of my lifelong work for children. I created a spectacle where something is still happening, it plays with colors and lights and there is no shortage of tension, laughter and emotion. The fantasy on wheels will be a big celebration and a party on everything that spins underfoot. On roller skates, bicycles, hoverboards, unicycles and scooters. And it's definitely not just about me. The unusual connection between the fairy tale and the sports world of freestyle makes the show a unique and exceptional experience. We will follow the exciting story of a kindergarten where toys began to disappear. The spectators and children will become part of the story and, with the help of elves led by František and Fanynka, will help solve the mystery," says its creator Michal Nesvadba at the ceremony.
The magnificent family show Fantasy on Wheels with the subtitle The Mystery of Disappearing Toys will entertain children from the age of 3, but also their older siblings, who may have grown up in fairy tales, but like to ride bikes and scooters in skate parks. Athletes, world and European champions on freestyle scooters and bicycles, who perform championship jumps and tricks on ramps, where they appear in unusual roles, add tension and an adrenaline experience to the fairy tale.
For Michal Nesvadba, the author's project is the culmination and culmination of his lifelong work on children, also a celebration of his 65th birthday and, most importantly, a farewell. In his home Czech Television, he announced the termination of his work on the Magic School program in June 2023. Michal Nesvadba has been a part of the program since 1999, when he continued the family tradition that his father, actor Miloš Nesvadba, once established with his children's programs.
The author team of the magnificent family show Fantasy on Wheels consists of names such as Lumír Olšovský (director), Ondřej Gregor Brzobohatý (music) or Lukáš Vilt (choreography) or Tomáš Váňa (film director). Forty performers will perform, including world champions of European freestyle on scooters (Richard Zelinka), in-line skates or MTB bikes (Tomáš Zejda). There will be original Michal's inventions from self-adhesive tape, an inflatable world and life-size costumes, unique lighting effects and performances by the Pyroterra group or a huge LED area measuring 12×5 meters with an amazing video projection, which is part of the whole performance.
Author team
Project author: Michal Nesvadba
Director: Lumír Olšovský
Music: Ondřej G. Brzobohatý
Film: Tomáš Váňa
Choreography: Lukáš Vilt
Executive producer: Oldřich Vodrážka and Michal Nesvadba / MOOM Production s.r.o.
More information
www.fantazienakoleckach.cz
www.facebook.cz/fantazienakoleckachsMichalem
www.instagram.com/fantazienakoleckach
Schedule of autumn tour 2022
22. 10. Trinec – WERK ARENA /15.00h/
30. 10. Prague – O2 universum / 10.30 am and 3.00 pm /
5. 11. Chomutov – Rocknet Arena /15.00h/
12. 11. Brno – Winning Group Arena /15.00h/
17. 11. Pilsen – ZS Hockey Club Pilsen 1929 /15.00h/
19. 11. Zlín – Luďka Čajka Winter Stadium /15.00h/
26. 11. Liberec – Home Credit Arena /15.00h/
3. 12. Pardubice – Enteria arena /15.00h/
10. 12. Ceske Budejovice – Budvar arena /15.00h/
17. 12. Ostrava – Ostravar Arena /15.00h/
THE OFFICIAL SELLER OF TICKETS FOR EVENTS AT THE O2 UNIVERSUM IS TICKETMASTER. WE DO NOT WARRANT THE VALIDITY OF TICKETS PURCHASED FROM OTHER SELLERS.