Souboj na talíři LIVE – Festival hvězdných chutí: Forejt, Kašpárek, Punčochář and Pohlreich under one roof!
june 15, 2023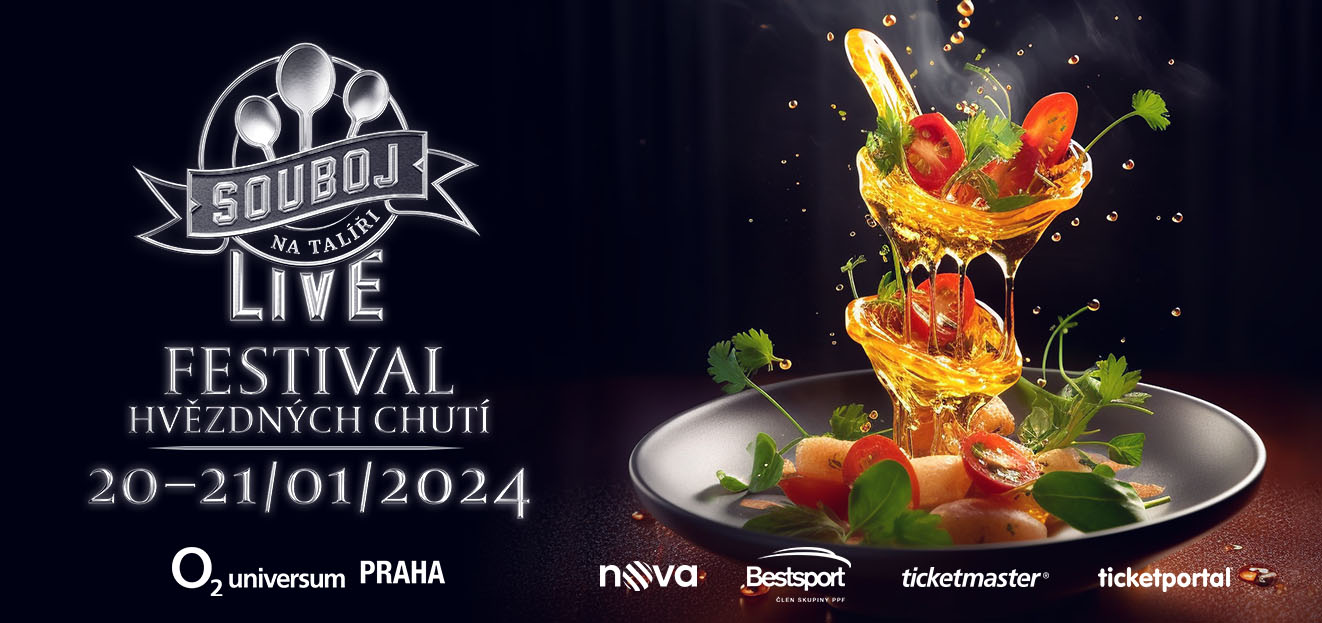 Who wouldn't want to taste great food from more than 10 restaurants that you know from TV Nova shows such as MasterChef Czech Republic, Souboj na talíři, or Pohlreich's Restaurant Battle? And while tasting, also have the opportunity to meet their main stars, who are prominent chefs in the Czech Republic, namely Přemek Forejt, Radek Kašpárek, Jan Punčochář, and Zdeněk Pohlreich?
Chef Battle
You will have this opportunity on January 20th and 21st, 2024, at the TV Nova event Souboj na talíři LIVE, the only large winter indoor food festival held at the O2 universum in Prague. During both weekend days, you will not only get a glimpse behind the scenes of the chefs but, above all, taste and judge for yourself who cooks the best. Moreover, you will experience a battle of the biggest culinary stars of today.
Michelin Stars
This gastronomic celebration will also be enriched by the presence of chef Jacob Jan Boerma, who has been awarded three Michelin stars. He will be cooking in a separate restaurant called "VIP Gourmet Experience," and you will be able to purchase a ticket for his menu. Boerma incorporates his experiences from various parts of the world, such as Asia or Scandinavia, into his creative dishes. So, save money on a trip to his exceptional Dutch restaurant and taste his exceptional dishes here in Prague.
Head Chefs' Dishes
Boerma won't be the only chef from whom people can taste dishes. For example, restaurants such as Aromi, Café Imperial & Valoria Restaurant, Červený Jelen, Dejvická 34, Eska, Grandrestaurant Pupp, Kampa Park, Mace Restaurant, MG Restaurace, MOLO Restaurant, Mlýnec, SaSaZu, Sia Restaurant, SILQ, U Sapíků and V Zátiší Restaurant will be cooking for visitors.
Celebrity Guests
During the weekend, there will be a full-day program of accompanying events. Talks, workshops, and autograph sessions will take place. Children will also have their own corner. TV Nova presenters and actors from popular TV series will also be in attendance.
Tickets available through official sales networks Ticketmaster and Ticketportal. The ticket price is 690 CZK, and the admission includes a food consumption voucher worth 300 CZK.
You can find the latest information about the event on the official website of the event: https://tv.nova.cz/soubojnatalirilive.
THE OFFICIAL SELLERS OF TICKETS FOR EVENTS AT THE O2 UNIVERSUM ARE TICKETMASTER AND TICKETPORTAL. WE DO NOT WARRANT THE VALIDITY OF TICKETS PURCHASED FROM OTHER SELLERS.