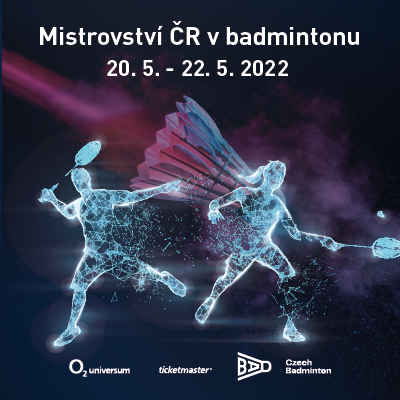 20.5.2022 12:00
20.5.2022 12:00
21.5.2022 00:00
22.5.2022 00:00
CZECH BADMINTON CHAMPIONSHIP
Prodej vstupenek byl ukončen.
Data
20.5.2022 12:00
20.5.2022 12:00
21.5.2022 00:00
22.5.2022 00:00
Místo
O2 universum, Praha
Pořadatel
Tělocvičná jednota Sokol Radotín
Cena

CZK 300–850
---
vozíčkář
one day CZK 180 + 1
three days CZK 400 + 1

Order wheelchair tickets from Ticketmaster (ticket@ticketmaster.cz).

Prodej / rezervace
Prodej vstupenek byl ukončen.
Pokladny

Pokladny u vstupu č. 1, O2 arena
Po - Pá
9:00 - 12:00
12:30 - 17:00
Den akce
10:00 - 1 h po začátku akce

Informace
Z akce jsou ze strany Bestsport, a.s. pořizovány záznamy návštěvníků a dalších osob v souladu se Zásadami pro zpracování a ochranu osobních údajů.
The popularity of badminton in the Czech Republic is growing. The courts in the centers throughout the country are full, and the successes of domestic racing players are increasing. The ideal time to move the fastest racquet sport at home. This is exactly what the national championship will take care of, which will take place in May at the O2 universum in Prague. "It will be a groundbreaking badminton event. For the first time in history, tickets are being ordered for our sport and we want to attract as many recreational players and sports fans to the tournament as possible. The event will be home to the elite, but also top players in the exhibition," said Michal Hubáček, tournament director. Tickets can be purchased through Ticketmaster.cz.
See live Jan Louda, who recently won an international tournament in Brno, or Tereza Švábíková, who mainly trains in Denmark. But also new Czech badminton talents who are thinking about participating in the Olympic Games. Such will be the program for the Czech Badminton Championship, which will begin on May 20, 2022. At the O2 Universum. "It is the newest and largest hall in which badminton has ever been held here. This will take us to a whole new level," added the organizer Hubáček. "Originally we wanted to organize the event at the end of January, but we rather moved the championship to May."
Large cultural events are commonly held in the modern arena, and the Billie Jean King Cup tennis also took place here in November. In May, a special surface will be laid on which the best Czech badminton players will compete for domestic titles. "During the national championship we are planning several accompanying events, we want to invite interesting players to Prague for the exhibition. But we will also invite Czech celebrities to show us their art. After all, many of them relax at badminton. It will be a celebration of our sport in a beautiful setting," said Petr Koukal, chairman of the Czech Badminton Association, which co-organizes the tournament.
The last Czech champions were Jan Louda and Tereza Švábíková. They took over the titles at the HAMR sports center in Štěrboholy. Adam Mendrek, who focused mainly on doubles, should also be in the action. At the same time, seeing such a player on the court at a wrestling pace is not such a frequent matter for Czech fans. "We would like to invite recreational players to come and see them, because experiencing live racing badminton is a great experience. In addition, we will organize a competition in which we will give amateur players a chance to challenge our stars," added Koukal.
Tickets for the 2022 Republic Championship can be purchased through ticketmaster.cz or 10% more expensive on the spot during the event. Admission costs 300 on Fridays and 400 crowns on weekends. 850 crowns for all days.
THE OFFICIAL DEALER FOR EVENTS AT O2 UNIVERS is TICKETMASTER. WE DO NOT WARRANT THE VALIDITY OF TICKETS PURCHASED FROM OTHER DEALERS.