Another Clash of the Stars gala will take place at the O2 universum! This time with a touch of Thailand!
september 11, 2023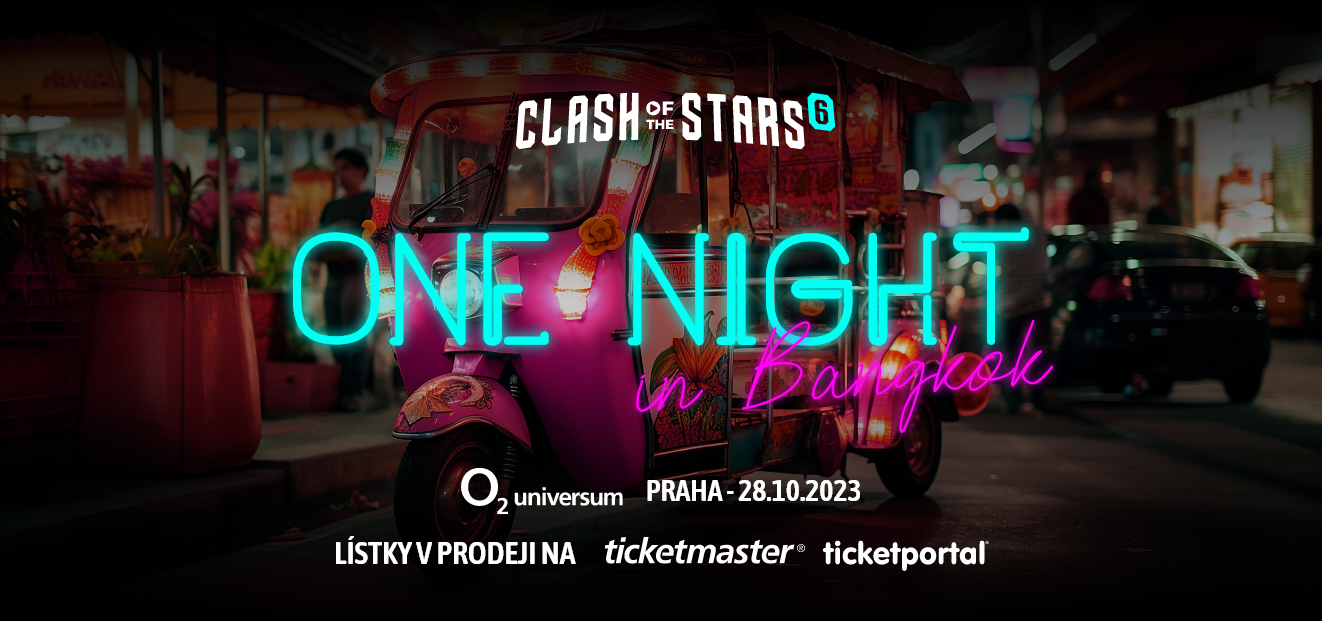 Clash of the Stars 6 – One night in Bangkok. You can look forward to the next Clash of the Stars gala on October 28, 2023! This time with a touch of Thailand!
As always, spectators can expect a packed starting line-up full of great matches! The main and at the same time title match will be the fight between Filip Grznár and Luktuma. Which of the fighters will become the champion of the light heavyweight division? Will it be a seasoned and experienced bodybuilder, or a young and talented tiktoker? Former friends and now irreconcilable rivals Datel and Kotlár Security will take care of the main pre-match. Their very personal and heated fight will take place according to the rules of MMA, but with bare fists! This will be the very first fight of its kind on our stage. As always, bodybuilder Karlos Benda has a highly anticipated fight ahead of him. Now 3 opponents are waiting in the cage, each in one round. Again, something that has no parallels in the Czech Republic or Slovakia. Without gloves, i.e. with bare fists, there will also be a heated "rematch" between rappers Lboy and Icko, who have already tested their strength on the street once and this time they will meet in the Clash of the Stars cage according to the rules of Thai boxing. Another much-anticipated match is the clash between the influencer Hanka Gelnárová and the experienced MMA fighter Michaela "Miss Problem" Dostálova according to the rules of Undergronud. The popular Max Green also returns to the event, who will face a fighter who proves that even small men can have big balls, Dominik Radl aka Malej Zmijozel.
In addition to familiar faces from previous gala evenings, you can also look forward to new fighters who want to fight their way to glory and gold cups. Patrik Žralok and Rendys will meet in a heavyweight fight. Rapper Riad and influencer Bergino will offer a high level of sports. The big beef will be resolved in a duel between Pomalu Snejksi and Sajmonos Znovuzrození. Known for his unique performance, Peter "Kobra" Kuťka will compete with veteran Clash Huhu. You'll only see these and other upcoming matches at the Clash of the Stars 6 gala!
In addition to tense and often personal and heated matches, the audience can look forward to a world-class light and music show, which undoubtedly belongs to the Clash of the Stars gala evenings! We look forward to seeing you on October 28 in the O2 universum hall in Prague!
THE OFFICIAL SELLERS OF TICKETS FOR EVENTS AT THE O2 UNIVERSUM ARE TICKETMASTER AND TICKETPORTAL. WE DO NOT WARRANT THE VALIDITY OF TICKETS PURCHASED FROM OTHER SELLERS.