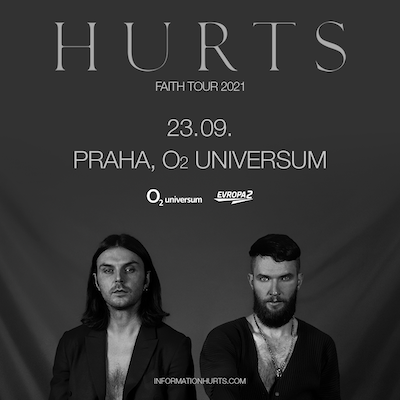 Place
O2 universum, Praha
Organizer
D Smack U Promotion
Price

990 CZK - 1 190 CZK

Sale / reservation
Ticket sales have ended.
Box offices

Box office – entry no. 1, O2 arena
Mon - Fri
9:00 - 12:00
12:30 - 17:00
Event day
10:00 - 1 hour after the start of the event

Information
Bestsport, a.s. records of visitors and other persons in accordance with Privacy Policy.
Unfortunately, the Hurts have decided to cancel the entire FAITH Tour and their concert scheduled for the 23. 9. 2021 to Prague's O2 universum is cancelled and we will have to wait a little longer for their visit to Prague.
Ticketmaster will return the entrance fee from Wednesday 19 May 2021. If you have purchased a ticket online, the ticket will be refunded automatically, you do not have to apply for a refund anywhere. If you bought your ticket from a store, please contact Ticketmaster Support at https://help.ticketmaster.cz/hc/en.
Below you will find a statement from Theo and Adam to cancel the tour.
Thank you for understanding
D Smack U Promotion & Red Triangle
---
,,Due to personal circumstances and the current situation, the FAITH Tour has been cancelled.
This is not a decision that has been taken lightly. FAITH is an album that means so much to us and your love and support over the past year has been incredible. Our deepest apologies to you all.
We hope you can understand that for ourselves and each other, this is the right thing to do.
For now, all we need is time. 
Thank you for everything.
We love you.
Theo & Adam"