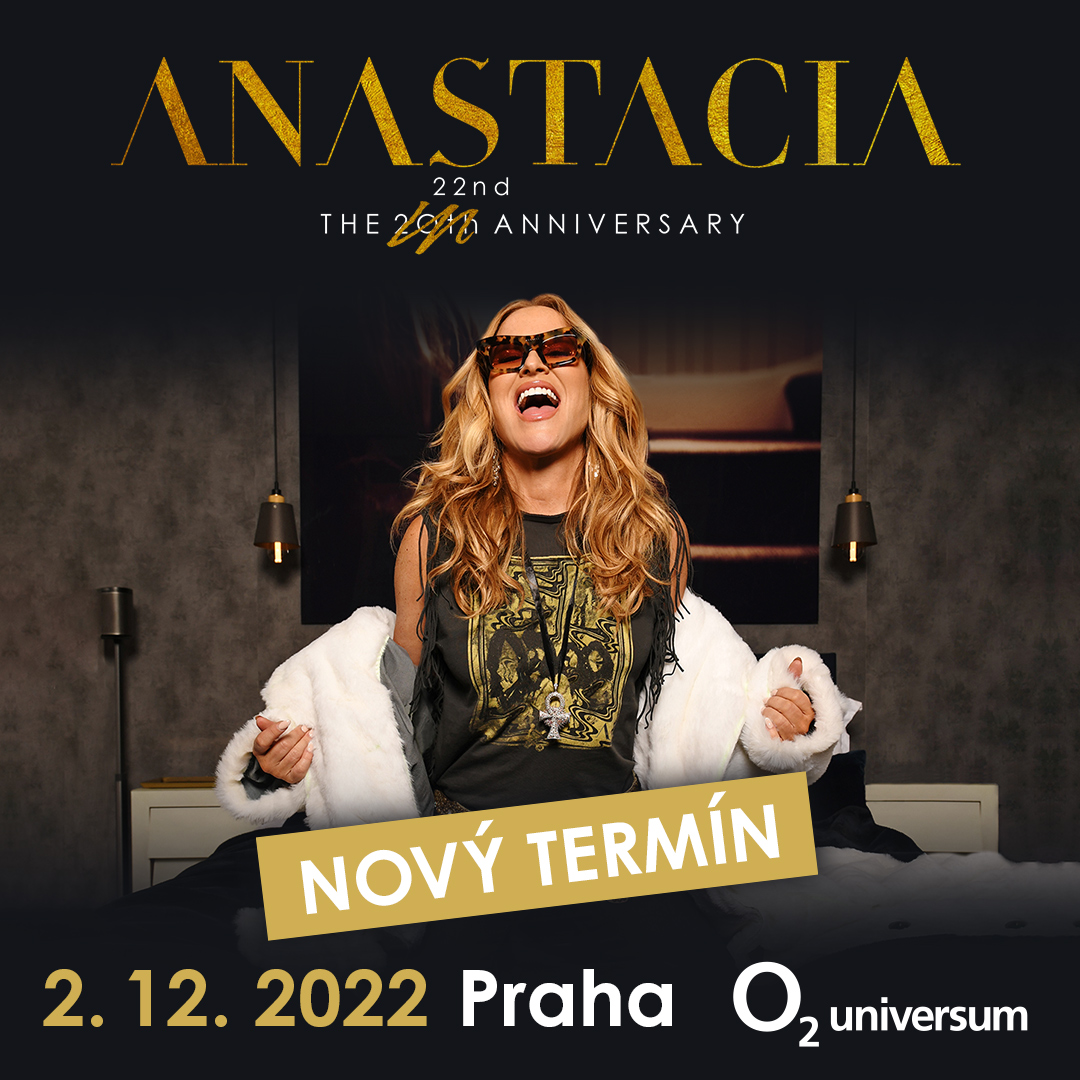 2.12.2022 20:00
ANASTACIA
Date
2.12.2022 20:00
Entry from
19:00
Place
O2 universum, Praha
Organizer
LIVE NATION CZECH REPUBLIC s.r.o. Organizer
Download
Price

CZK 1 290–1 890
---
wheelchairer + guide
CZK 1 790 + CZK 1

Order wheelchair tickets from Ticketmaster (ticket@ticketmaster.cz).

Sale / reservation
Ticket sales have ended.
Box offices

Box office – entry no. 1, O2 arena
Mon - Fri
9:00 - 12:00
12:30 - 17:00
Event day
10:00 - 1 hour after the start of the event

Information
Bestsport, a.s. records of visitors and other persons in accordance with Privacy Policy.
Organizer – LIVE NATION CZECH REPUBLIC s.r.o.
The promoter, venue and artist reserve the right to insist that attendees comply with all health and safety protocols and entry requirements specified by the promoter, venue or artist regardless of whether such measures are required by law (including by way of example, a requirement to present proof of vaccination or a COVID – 19 recovery certificate etc.)
Dear Customers,
the organizer of the event has informed us that a new date has been announced for the concert of the singer Anastacia, which was originally scheduled for 4 October 2022.
The new date of the concert is December 2, 2022 at 20:00 at the O2 universum in Prague. Purchased tickets will remain valid for the new date without the need for exchange.
Statement by Anastacia:
"Hello everyone, I am extremely excited to announce the rescheduled tour dates!!! We managed to reschedule all the dates except Hamburg. Unfortunately this venue was no longer available. Your tickets are still valid and you can buy new ones on Anastacia.com".
THE OFFICIAL SELLER OF TICKETS FOR EVENTS AT THE O2 UNIVERSUM IS TICKETMASTER. WE DO NOT WARRANT THE VALIDITY OF TICKETS PURCHASED FROM OTHER SELLERS.