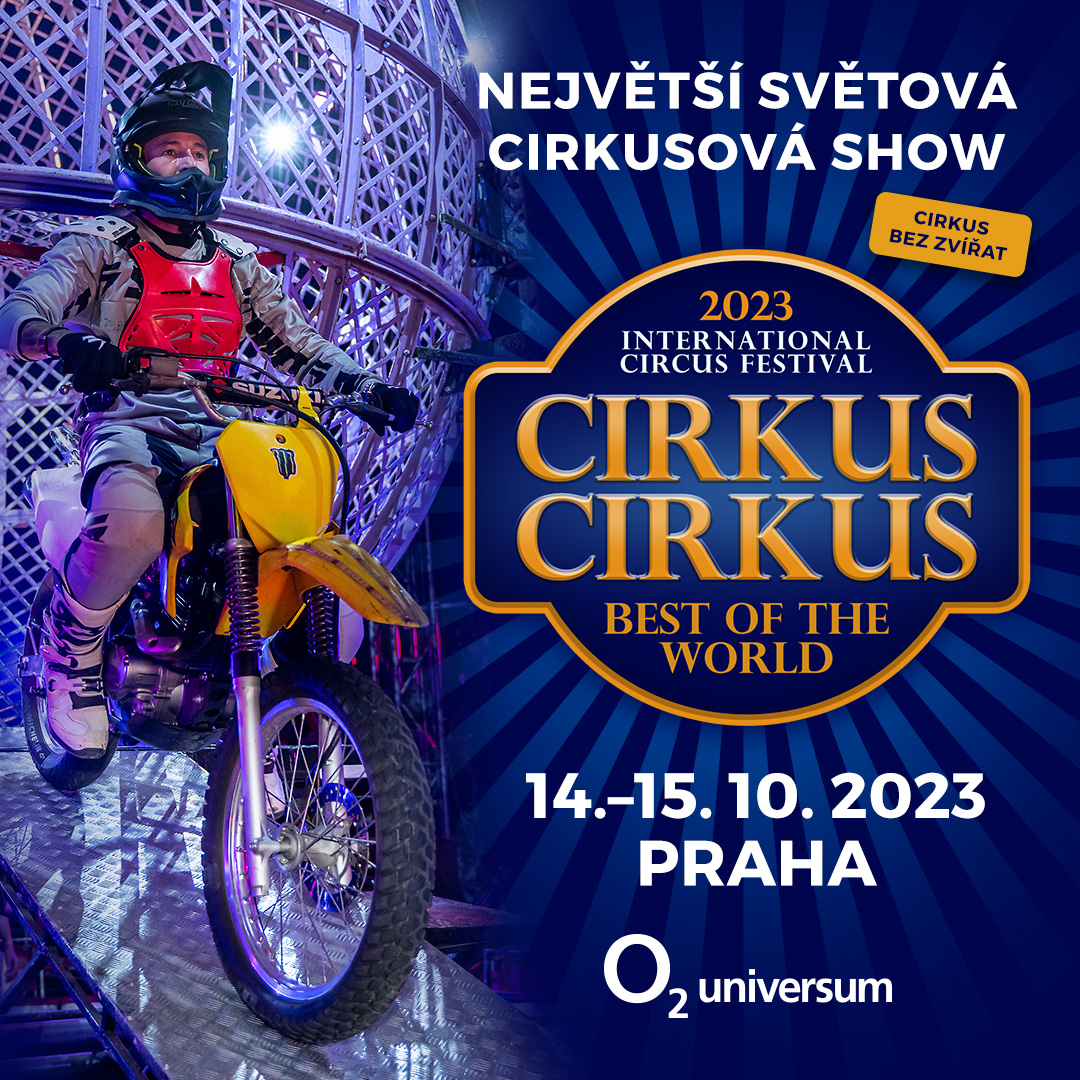 14.10.2023 13:30
14.10.2023 18:30
15.10.2023 11:00
15.10.2023 16:00
CIRKUS CIRKUS FESTIVAL
Date
14.10.2023 13:30
14.10.2023 18:30
15.10.2023 11:00
15.10.2023 16:00
Entry from
one hour before the scheduled start of the performance
Place
O2 universum, Praha
Organizer
Televizní produkce, s.r.o. Organizer
Download
Price

CZK 290 – 4 500
---
wheelchairer + guide
CZK 600 + CZK 1

Order wheelchair tickets from Ticketmaster (ticket@ticketmaster.cz).

Sale / reservation
Available in the Ticketmaster sales network

Box offices

Box office – entry no. 1, O2 arena
Mon - Fri
9:00 - 12:00
12:30 - 17:00
Event day
10:00 - 1 hour after the start of the event

Information
Bestsport, a.s. records of visitors and other persons in accordance with Privacy Policy.
Organizer – Televizní produkce, s.r.o.
Promoter's Terms
The ticket is valid only for the stated day, hour, event, venue and seat, is valid only with a check stub and authorizes one entry. It shall expire after leaving the venue. Additional modifications render the ticket invalid. In the event of expiry of the ticket, its damage, destruction, loss or theft, the ticket may not be replaced or its value replaced or otherwise compensated. Further transfer, sale or resale of the ticket without the written consent of the Promoter or an attempt to resell it at a price higher than printed on the ticket renders it invalid. The holder of such a ticket will be refused entry to the event venue or will be escorted out and this constitutes grounds for confiscating the ticket without refunding its nominal price or other compensation.
The ticket is a prize, its counterfeiting and alteration is prohibited. The organiser shall refuse entry to the event to all holders of such tickets.
Paid admission is not refunded, the ticket is not exchanged. If the event is cancelled, the organiser is responsible for refunding the admission fee. In the event of cancellation of the event, the ticket holder shall claim a refund of the admission fee as instructed by the Promoter. Reimbursement of special costs (e.g. hotel, travel expenses) is not granted. Program change reserved. The date and time of the event can be changed without notice.
Photography and recording of images and sound recordings during the event, including breaks, excluding small compact cameras, are prohibited. In addition, the introduction of cameras, professional cameras, tablets and the use of laser pointers is prohibited.
The organiser gives discounts on admission to wheelchair users (ZTP/P pass holders) and their guides.
When complying with the obligations arising from ticket sales, Ticketmaster Česká republika, a.s. will proceed in accordance with the applicable Commercial Conditions for the provision of the ticketing service for sports and cultural events through the Ticketmaster sales network. The current version of the terms and conditions is available at www.ticketmaster.cz.
Tickets for the original dates of October 15 and October 16, 2022 remain valid and do not need to be exchanged.
MORE INFORMATION SOON
THE OFFICIAL SELLER OF TICKETS FOR EVENTS AT THE O2 UNIVERSUM IS TICKETMASTER. WE DO NOT WARRANT THE VALIDITY OF TICKETS PURCHASED FROM OTHER SELLERS.