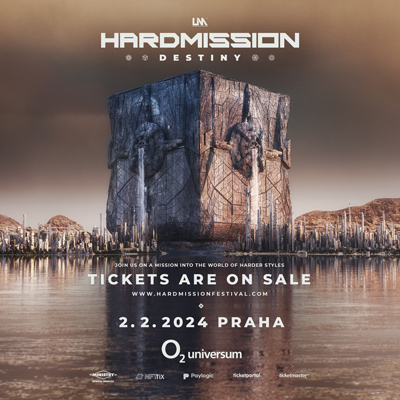 2.2.2024 21:00
HARDMISSION FESTIVAL
Date
2.2.2024 21:00
Entry from
20:00
Place
O2 universum, Praha
Organizer
UM Production s.r.o. Organizer
Price

CZK 1 390 – 5 390

Regular Ticket : CZK 1 390
Combo Ticket : CZK 2 590
TIXBASE VIP LOUNGE TICKET: CZK 2 790
COMBO TIXBASE VIP LOUNGE TICKET: CZK 5 390

Sale / reservation
Available in the Ticketmaster and Ticketportal sales networks

Box offices

Box office – entry no. 1, O2 arena
Mon - Fri
9:00 - 12:00
12:30 - 17:00
Event day
10:00 - 1 hour after the start of the event

Information
Bestsport, a.s. records of visitors and other persons in accordance with Privacy Policy.
Organizer – UM Production s.r.o.
Zakoupením vstupenky návštěvník souhlasil s Provozním řádem O2 universum , s Všeobecnými a obchodními podmínky prodejní sítě Ticketportal, s Všeobecnými a obchodními podmínky prodejní sítě Ticketmaster a pokyny pořadatele. Zavázal se jimi při návštěvě O2 universum, akcích Hardmission/Techmission, řídit.
Návštěvník akce je povinen při vstupu do O2 universum absolvovat bezpečnostní prohlídku, která je prováděna pořadatelskou službou. Prohlídka se vztahuje i na vnášené batohy, tašky, kabelky a návštěvník je povinen umožnit kontrolu jednotlivých vnášených předmětů. Po odmítnutí bezpečnostní prohlídky nebude návštěvník vpuštěn do O2 universum.
Návštěvník dává výslovný souhlas k bezplatnému použití filmového, fotografického, zvukového nebo jiného záznamu, které organizátor nebo jím pověřené osoby vyhotovili během akce.
Na akci není povoleno fotografování a výroba zvykových a obrazových záznamů profesionální technikou bez předchozí akreditace organizátorem.
Vstup na akci povolen pouze osobám starším 18 let.
Opakovaný vstup na akci není umožněn. Po opuštění O2 universum pozbývá vstupenka nebo identifikační páska platnosti.
Pořadatel akce si vyhrazuje právo na změnu programu, místa a data konání akce. Zaplacené vstupné se nevrací, vstupenka se nevyměňuje.
Pořadatel nepřebírá odpovědnost za vstupenky, které byly zakoupeny návštěvníky akce mimo oficiální ticketingovou síť pořadatele.
United Music brings you a new spectacular audiovisual show of a global format after its successful Transmission, combining the latest technologies, laser shows, light shows, and special effects with perfect sound quality. The new venue – o2 Universum – will offer visitors amazing views of the stage from three floors, excellent acoustics, and easy access by metro line B. Prepare yourself for an electrifying show and more than a dozen international headliners on a huge unique stage and immerse yourself in a story that will take you to distant worlds and realities.
Hardmission and Techmission plan to go beyond the boundaries of human imagination and prepare their visitors for long-lasting unforgettable moments. Within Hardmission: Destiny, we will transport ourselves to a remote planet where a mysterious artefact lies, which has prepared an important space mission for the visitors. With Techmission: Immersive Reality II, we will be transported to another reality that will engulf us with its illusions. The heart of both events lies within the visitors themselves, who are an integral part of the festival and help create the image and atmosphere of the entire show.
Join us for the second edition of the Hardmission and Techmission festivals and let yourself be carried away by special effects, music, and unforgettable moments that await you at o2 Universum. We look forward to seeing you!
www.facebook.com/HardmissionFestival