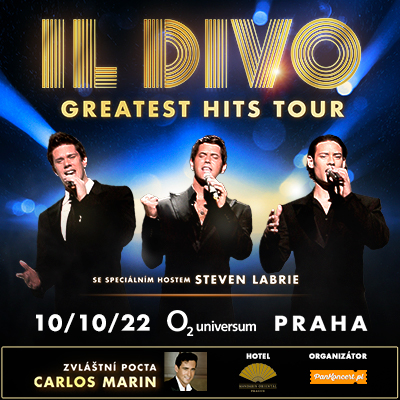 10.10.2022 20:00
IL DIVO "THE GREATEST HITS"
Date
10.10.2022 20:00
Entry from
19:00
Place
O2 universum, Praha
Organizer
Eurosoul sp. z o. o. Organizer
Download
Orientation Plan IL DIVO Ticketmaster (229.83 Kb)

Price

CZK 1 190 – 2 300
---
wheelchairer + guide
CZK 1 990 + CZK 1

Order wheelchair tickets from Ticketmaster (ticket@ticketmaster.cz).

Sale / reservation
Ticket sales have ended.
Box offices

Box office – entry no. 1, O2 arena
Mon - Fri
9:00 - 12:00
12:30 - 17:00
Event day
10:00 - 1 hour after the start of the event

Information
Bestsport, a.s. records of visitors and other persons in accordance with Privacy Policy.
Organizer – Eurosoul sp. z o. o.
The ticket is valid only for the stated day, hour, event, venue and seat, is valid only with a check stub and authorizes one entry. It shall expire after leaving the venue. Additional modifications render the ticket invalid. In the event of expiry of the ticket, its damage, destruction, loss or theft, the ticket may not be replaced or its value replaced or otherwise compensated. Further transfer, sale or resale of the ticket without the written consent of the Promoter or an attempt to resell it at a price higher than printed on the ticket renders it invalid. The holder of such a ticket will be refused entry to the event venue or will be escorted out and this constitutes grounds for confiscating the ticket without refunding its nominal price or other compensation.
The ticket is a prize, its counterfeiting and alteration is prohibited. The organiser shall refuse entry to the event to all holders of such tickets.
Paid admission is not refunded, the ticket is not exchanged. If the event is cancelled, the organiser is responsible for refunding the admission fee. In the event of cancellation of the event, the ticket holder shall claim a refund of the admission fee as instructed by the Promoter. Reimbursement of special costs (e.g. hotel, travel expenses) is not granted. Program change reserved. The date and time of the event can be changed without notice.
Photography and recording of images and sound recordings during the event, including breaks, excluding small compact cameras, are prohibited. In addition, the introduction of cameras, professional cameras, tablets and the use of laser pointers is prohibited.
The organiser gives discounts on admission to wheelchair users (ZTP/P pass holders) and their guides.
When complying with the obligations arising from ticket sales, Ticketmaster Česká republika, a.s. will proceed in accordance with the applicable Commercial Conditions for the provision of the ticketing service for sports and cultural events through the Ticketmaster sales network. The current version of the terms and conditions is available at www.ticketmaster.cz.
Following the tragic passing of Il Divo's Carlos Marin, the remaining members of the multi-national group – America's David Miller, France's Sebastien Izambard and Switzerland's Urs Buhler – will proceed with their tour in tribute to Marin. The tour, previously, the "For Once in My Life Tour" will go on as a Greatest Hits Tour and include special guest, Mexican American baritone Steven LaBrie. The tour will be filled with Il Divo's hits from their vast catalog of songs with an incredible stage production. All tickets from the originally scheduled dates will be honored at the 2022 shows.
"Carlos was a larger than life personality, with a rare combination of an incredibly beautiful, God-given voice and absolutely, immense talent. His passion, playfulness and sense of humor made for such a magical persona, and his laugh would always lift anyone up. He was loved by millions of fans all over the world and we were lucky and honored to be able to perform with him in our midst for so many years. We'll deeply miss his playfulness, friendship and brilliant voice. In his honor, we'll be setting up a Carlos Marin Foundation and will be playing tribute to his singing in our future shows. May everyone remember him for his beautiful soul, his amazing talent and may he forever rest in peace," said Miller, Izambard and Buhle in a statement.
The tour supports their 10th studio album, For Once In My Life: A Celebration Of Motown (Decca Gold), available now as well as the Carlos Marin Foundation.
Il Divo is the most commercially successful classical crossover group in international music history, which Il Divo still enjoys since they first banded together in 2003. With over 30 million albums sold, 160 gold and platinum albums in 33 countries to their credit Il Divo were the first Classical Crossover artists to have an album debut at #1 on Billboard's Top 200 chart.
ABOUT IL DIVO
Il Divo, the pioneers of classic pop crossover, will finally return to Prague on October 10, 2022 as part of their Greatest Hits Tour "Hommage to Carlos Marin (1968-2021)". Special guest is Steven Labrier (baritone).
Over 18 years ago, Carlos Marin (Spain), Urs Bühler (Switzerland), Sebastien Izambard (France) and David Miller (USA) spearheaded a whole new music genre with their groundbreaking debut album. Since then, Il Divo has grown into a preeminent tenor powerhouse vocal group with 160 gold and platinum albums in 33 countries and over 30 million albums sold.
Featuring their greatest hits and best-loved classics, Il Divo will create an unforgettable fan experience this summer.
THE OFFICIAL SELLER OF TICKETS FOR EVENTS AT THE O2 UNIVERSUM IS TICKETMASTER. WE DO NOT WARRANT THE VALIDITY OF TICKETS PURCHASED FROM OTHER SELLERS.