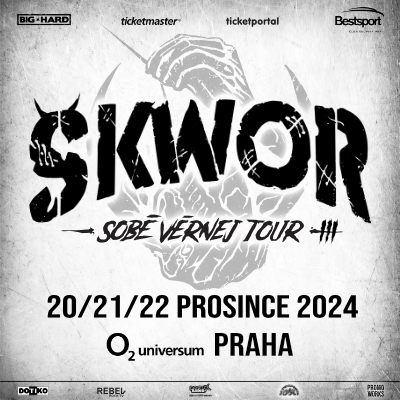 20.12.2024 19:00
21.12.2024 19:00
22.12.2024 19:00
ŠKWOR
Organizer – Bestsport, a.s.
Vstupenka platí jen pro uvedený den, hodinu, akci, místo konání a sedadlo, je platná pouze s kontrolním ústřižkem a opravňuje k jednomu vstupu. Po opuštění místa konání akce pozbývá platnosti. Dodatečnými úpravami se stává vstupenka neplatnou. V případě uplynutí platnosti vstupenky, jejího poškození, zničení, ztráty nebo krádeže nelze vstupenku vyměnit ani nahradit její hodnotu ani poskytnout jinou kompenzaci. Další převod, prodej nebo zbavení se vstupenky bez písemného souhlasu pořadatele nebo pokus o další prodej za cenu vyšší, než je na vstupence vytištěna, způsobuje její neplatnost. Držiteli takové vstupenky bude odepřen vstup na místo konání akce nebo bude vyveden a zakládá to důvod pro zabavení vstupenky bez náhrady její nominální ceny nebo jiné kompenzace.
Vstupenka je cenina, její padělání a pozměňování je zakázáno. Pořadatel odepře vstup na akci všem držitelům takových vstupenek.
Zaplacené vstupné se nevrací, vstupenka se nevyměňuje. V případě zrušení akce zodpovídá za vrácení vstupného pořadatel. V případě zrušení akce uplatní držitel vstupenky nárok na vrácení vstupného dle pokynů pořadatele. Servisní poplatky se nevracejí. Náhrada zvláštních nákladů (např. hotel, jízdní výlohy) se neposkytuje. Změna programu vyhrazena. Datum a čas akce mohou být změněny bez upozornění.
Je zakázáno fotografování a pořizování obrazových a zvukových záznamů v průběhu akce včetně přestávek, vyjma malých kompaktních fotoaparátů. Dále je zakázáno vnášet do objektu kamery, profesionální fotoaparáty, tablety a zároveň je zakázáno používání laserových ukazovátek.
Pořadatel poskytuje slevy na vstupném vozíčkářům (držitelům průkazu ZTP/P) a jejich průvodcům.
Při plnění povinností vyplývajících z prodeje vstupenek bude IRSnet CZ s.r.o. postupovat ve shodě s platnými obchodními podmínkami pro poskytování služby prodej vstupenek na sportovní a kulturní akce prostřednictvím prodejní sítí Ticketmaster a Ticketportal. Aktuální znění obchodních podmínek je k dispozici na www.ticketmaster.cz a www.ticketportal.cz.
With a significant lead, the completely sold-out double concert Škwor in October 2023 at the O2 universum Prague was one of the highlights of this year's 25th-anniversary celebrations for the popular rock band and their numerous fans, along with the release of their new album "Sobě věrnej".
It's no wonder that Škwor decided to "do it again next year" and continue the tradition of big Prague concerts. The rockin' crew will return to the O2 universum just before Christmas, with three concerts scheduled for December 20, 21, and 22, 2024! So, fans of rock Christmas should have their gifts sorted out…
"It was clear to all of us from the moment we stepped onto the sold-out O2 universum stage. From the beginning, we knew we would want to repeat this party. During the first concert, I promised our fans that we'd do it again with them in a year. And since promises should be kept, we'll really do it again next year, and three times at that! We'll close our tour for the new album 'Sobě věrnej' and enjoy the end of the year together," says Škwor's frontman, Petr Hrdlička. Drummer Martin Pelc adds: "We received a lot of positive reactions and messages for both birthday concerts at O2 universum. It only confirmed to us that we made the right decision and that our fans won't let us down next year."
For more news and updates from the Škwor, follow the band on Facebook and Instagram.